Southeast Florida
Southeast Florida - Beach Vacation Destinations:
• Boca Raton • Boynton • Dania • Deerfield • Delray • Ft. Lauderdale
• Hallandale • Haulover • Highland • Hillsboro • Hollywood • Juno • Jupiter
• Key Biscayne • Miami • North Palm • Palm Beach • Palm Beach Shores
• Pompano • Riviera • South Beach • Sunny Isles • West Palm Beach
---
Florida's Southeast is called the Gold Coast and Treasure Coast for the gold treasures that wash up on the shore.
---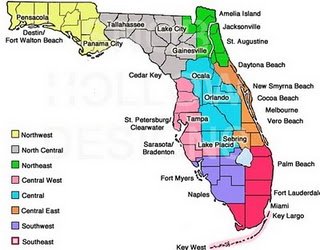 SOUTHEAST FLORIDA
---
The treasures that wash up here on these east coast beaches
have come from ships that lost their battles when Mother Nature sent vicious storms and hurricanes and destroyed in her angry path.
It took a long time, but slowly, over centuries, these ships have disintegrated and reluctantly given up their treasures. Keep you eyes peeled to the ground as you walk the beach.
You never know when a pricy coin or piece of jewelry of pure gold or silver is right under your feet. Every wave can bring a treasure - maybe something lost for hundreds of years.
Even though ravished by the sea and treasure hunters, the ships still cough up some gold and silver occasionally and usually when least expected.
---
---
Why now? Good question; thanks for asking. Some artifacts get buried in deep sand and only the perfect tidal action will bring them to the feet of some unsuspecting tourist just out strolling the beach.
So, come on down to Southeast Florida; your treasure from the deep may be waiting to wash up at your feet.
Boca Raton Florida
Calls itself "A city for all seasons" and it certainly is because the weather is always warm, sunny and inviting. Snorkel the caves at South Inlet Park.
Boynton Beach Florida
"We Make Life Fun" so if your idea of fun is a fabulous white sandy beach to lounge on and a sun guaranteed to give your skin a summer glow, come on down and put some fun in your life.
Dania Beach Florida
Dania Jai-Alai, the world's fastest ball sport, is played at "The Palace". Similar to racquetball or handball but taken to the extreme and dubbed the game of a thousand thrills.
Deerfield Beach Florida
Portrays a laid-back beach attitude but comes with everything a visitor could want. Try land sports, water sports, fishing, or do what we do; read, doze, eat, repeat.
Delray Beach Florida
Delray Beach Florida is a popular and beautiful 2-mile beach and just as sophisticated as its neighbor, Palm Beach, but a little more laid-back.
Fort Lauderdale Florida
Home to the Intracoastal Waterway that meanders around multi-million dollar homes with multi-million dollar yachts parked in front (or behind) depending on the preferred view of the original owner.
Hallandale Beach Florida
Home of Mardi Gras Casino Greyhound Racing Track. Bring money; win some, lose some. Your little ones will love Hallandale's beach ball in the sky.
Haulover Beach Florida
There is something special about this beach! The north end is an official nude beach but not to worry if you are not so inclined. Unless you venture 'up north' you won't even know it exists.
Highland Beach Florida
This gorgeous coastal hammock paradise, due to its location, is almost completely hidden away but well worth your time to dig out the map, locate and enjoy.
Hillsboro Beach Florida
Called "Millionaire Mile", this beach, like a lot of Southeast Florida has an intriguing mix of "exclusive" ambiance with a classy, comfortable feel. Visit the 1907 lighthouse.
Hollywood Beach Florida
Lives up to its name with its glamorous atmosphere and chic attitude. Stroll on the Hollywood Boardwalk modeled after Atlantic City's Boardwalk.
Juno Beach Florida
A friendly residential beach town in southeast Florida with a big bonus for dog lovers, the Juno Dog Beach! So, bring your furry friends and let them frolic in the water.
Jupiter Florida
This beach is simply out of this world so the name is appropriate. Bring your fishing gear and try your "almost can't fail" luck; the fishing is that good here.
Key Biscayne Florida
You won't find as much partying as on other Miami beaches but you will find smooth sailing, fishing, water sports and other fun things that further define this beautiful island as a tropical getaway.
Miami Beach Florida
Why is Miami Beach Florida considered a best Florida beach? Maybe because the people are rich and famous and arrive in private planes and expensive yachts, just to take a stab at it.
North Palm Beach Florida
Residents claim "The Best Place to Live Under the Sun." The weather is always warm, the sun is always shining and there's world-class parks, golfing, and dining.
Palm Beach Florida
Palm Beach Shores is a small but charming beach that is fairly exclusive to the people who live there and to the hotels and resorts directly on the beach.
Palm Beach Shores
An exclusive wealthy community where the scions of industry and entertainment come when the weather is inclement at their other mansions.
Pompano Beach Florida
Sport Fishing Capital of the World. Are you up to the challenge? Our fish don't think so. Will you risk being taunted and bested by a fish?
Riviera Beach Florida
Claims to be "Florida's Best Beach" and they wouldn't lie, so it must be. We have been there and can't argue with that. One of the widest beaches we have seen.
South Beach Florida
This area is very upscale with many very exclusive resorts and locations, such as the magnificent Versace mansion and the amazing Art Deco district.
Sunny Isles Florida
Sounds like a small, cozy place but in reality, a wonderful resort area with high-rise condos and hotels located between Miami and Fort Lauderdale beaches.
West Palm Beach Florida
Much more populated albeit less exclusive than wealthy sister, Palm Beach. Luckily, it still boasts the same white sandy beaches topped with crystal clear blue water.
Southeast Florida is always warm and just what you need when the stress of snow and cold weather gets the best of you. A little beach therapy here is all you need to re-align your spirit!
Do you want to go further south from here? So, what's further south than Southeast Florida? Must be the fabulous Florida Keys.
Think REALLY warm weather, Key Lime Pie, Earnest Hemingway...
---
To Florida Keys from Southeast Florida.
Back to Home from Southeast Florida