Boca Raton Florida
Boca Raton Florida calls itself, "A city for all seasons" and we agree because the weather is always warm, sunny and inviting (just like the local folks).
---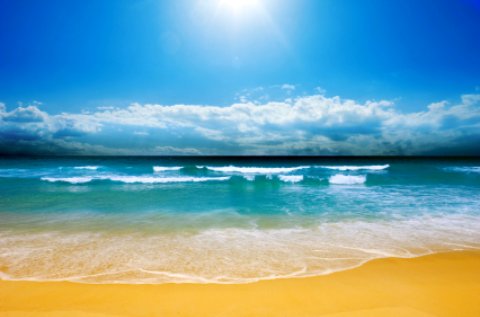 ---
Unlike other beaches in the area, Boca Raton will first greet you with large jagged rocks that protrude along its shores. But, hang on, just beyond the rocks and this unusual entrance, peace and tranquility await your presence!
A friend thought it should be called "Heaven's gate" because the beach is beautiful, the atmosphere is friendly and you truly feel like you're entering a spiritual place.
Unlike typical public beaches, this beach is city-owned and there may be an entrance and / or parking fees so check with city hall before you go to avoid any surprises.
---
---
Great activities to try and nearby attractions:
See great local and international art on display or attend a lecture or short film at the Boca Raton Museum of Art.

At nearby South Inlet Park you can snorkel inside some great caves with lots of rock formations to enjoy in Buck's Cave.

Check out Gumbo Limbo Nature Center for some beautiful gardens, sea turtles, sharks and other saltwater animals.

Stroll through a hardwood hammock and climb to the top of a 40 foot observation tower for an incredible view of the seascape.

A fun side trip is a half-hour drive north to Palm Beach just to gasp and gawk at the beautiful mansions lined up along the beach and pick the one you like best for that time when, you know, 'your ship comes in'.

Traveling north, before you get to Palm Beach, if you are not careful, you will pass right by Delray Beach and if so, you will miss a cool downtown area with wonderful shopping and cute restaurants so make time to stroll around here for a while.

Another day idea is to drive your car south and you will quickly run into a string of great beaches, all worth a stop and a look-see, starting with Deerfield Beach.
---
Kids of most ages:
The kids, especially ages 3-10, will enjoy river rides, water slides and other fun water attractions at Coconut Cove Waterpark.
Eating: The City Fish Market sounds casual and inexpensive but it's actually a little pricey but diners say it is worth the price. You won't go crazy at the Stir Crazy Café but you will have a delightful meal.
---
---
Sleeping: For an affordable stay that doesn't skimp on accommodations and comfort, try the Ocean Lodge. Or spend your vacation like royalty at the gorgeous Boca Beach Club of The Waldorf Astoria Collection.
---
Back to Southeast Florida from Boca Raton Florida
Back to Home from Boca Raton Florida