Palm Beach Florida
Palm Beach Florida is an exclusive wealthy community where the scions of industry and entertainment can come to escape inclement weather during the winter months.
It was written somewhere, at some time, a long time ago, that the rich and famous and this elegant beach would spend their winters together. And so, it has come to pass at Palm Beach Florida.
---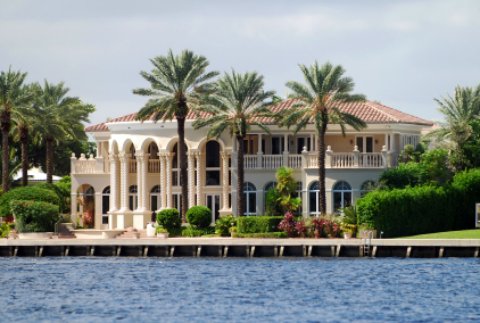 Just your typical residence in Palm Beach.
---
The Kennedy's, Rockefeller's, Trump's and other mega rich folks have bought or built gorgeous homes here and furnished them with equally gorgeous accoutrements.
When you win the lottery, think Palm Beach Florida! This is the place you'll want to spend your winnings and your winters.
This is where CEO's play golf with other CEO's and cut deals. Rumor has it the 'buyer' usually wins. ;)
Wondering how Palm Beach got its name? I didn't think so but I am going to tell you anyway. :)
The story goes that a Spanish ship filled with coconuts crashed into the shoreline and spilled all the coconuts on the beach.
The inhabitants buried the coconuts and when beautiful coconut palm trees sprung up, the inhabitants began to call their community, Palm Beach. (editor's note; if you would like to see a coconut sprouting, click here: Palm Beach Shores.
Tall elegant coconut palms, with fronds swaying gently in ocean breezes, transformed this already lovely coastal community into a tropical paradise.
---
---
Great activities to try and nearby attractions:
Golf is like a second language here, so if you speak 'golf', you will find many well-manicured golf courses such as the one at the PGA National Resort and Spa where you can spend days trying to play all 900 holes.

A home built by oil tycoon Henry Flagler as a gift to his third wife has become a beautiful museum and tribute to him and his family.

The Flagler Museum offers a tour of this mansion consisting of 55 rooms filled with beautiful antique furniture and artwork.

The Flagler grounds are masterfully landscaped too and it's just a magnificent spot to spend a leisurely afternoon.Spend a few more hours at the Norton Museum of Art for some very prestigious collections from all over the world.

Don't even think of coming to Palm Beach without planning a day of shopping. With or without a fat wallet, there's bountiful shopping along Worth Avenue.

Just looking? Even if you're just browsing through the boutiques, you'll experience a shopping experience unlike any other.
---
Kids of most ages: The young'ens age 5 and under will become entranced with the world of make believe available to them at the Playmobil Fun Park where they can instantly become a fairy princess, a cowboy or even a doll with the fun and imaginative play areas here.
For the kids a little older and not so easily entertained, a trip to Rapids Water Park is in order.
Eating: Most of the restaurants in Palm Beach Florida are pricey- remember, this island is home to many rich and famous who like to dine in gourmet restaurants.
If the budget allows, enjoy some 'red-carpet' French cuisine at Café Boulud. Enjoy a delicious steak and potatoes dinner if you prefer, at Flagler's Steakhouse.
Sleeping: Rub elbows with the elite and stay in the world-renowned resort, The Breakers.
Be prepared to drop a lot of cash to stay in this world-class resort hotel that is built right along the rock seawall so you can hear the waves "breaking" right alongside it.
If you want to experience the luxury of Palm Beach but can't afford one of the fancy hotels, the Fairfield Inn & Suites Palm Beach is the best value in the area and offers more of the lower scale but sufficient accommodations that most of us are probably used to.
Don't forget your camera when you visit; you never know when you might just spot a celebrity, so be ready but not too intrusive.
Palm Beach Shores →
← North Palm Beach
---
Back to Southeast from Palm Beach
Back to Home Page from Palm Beach Florida