Gay Beaches
• South Beach • Haulover Beach • Smathers Beach • Pass-a-Grille
• Dania Beach • Fort Lauderdale
Gay Beaches: Looking a beautiful gay beach? Many of Florida's incredible beaches welcome one and all members of the LGBT community.
There are a few beaches that are a little more accepting and therefore, more frequented, by gay tourists.
We hope our readers, like you, will let us know when you find a friendly-gay beach so we can pass the word along. Thanks in advance!
---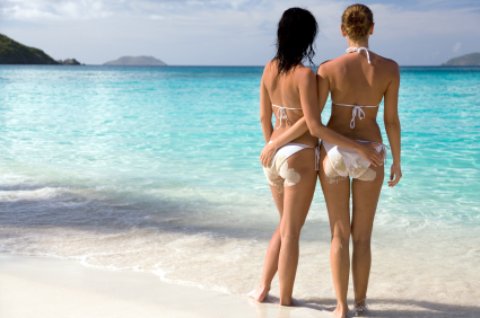 Girlfriends on vacation
---
One of the best gay beaches in Florida
say the LGBT community. Just not to be missed. Here are some of the favorite beaches. Click on the headings for some possibilities for entertainment, dining and accommodations.
---
---
South Beach: South Beach has always been known as a trendy, laid-back and very welcoming vacation destination for those of alternative lifestyles.
No matter what your passion is, you're sure to find it at South Beach… and enjoy the beach while you let the real you shine as bright as the sun!
Everyone is welcome here. The beach has become more family oriented in recent years but everyone from college kids to honeymooners still flock here.
Haulover Beach: Haulover is better known for being the prime (and only legal) nude beach in all of Florida, but it's also a popular choice among LGBT persons.
We understand there is a section within the nude area dedicated to LGBT who enjoy sunning in the all-together.
What better place is there to vacation than a place that encourages freedom and being natural. And, the beach is fabulous!
Smathers Beach: All of Key West's beaches are pretty hot and trendy right now, but Smathers is welcoming to all. We're sure that the LGTB will feel welcome and notice a lot of support and self-expression of their lifestyles going on in this tropical oasis.
Pass-a-Grille: If you're looking for a more secluded and toned down spot, Pass-A-Grille provides just that.
You still get all of the sand and sun that you desire but you don't have to deal with crowds and the atmosphere is so laid back, you will want to set up camp right on the beach… permanently!
Dania Beach: Dania beach is famous for antiques so if you're looking for some unique furniture and decorations for your home or business, plan to spend some time for browsing and shopping here.
---
---
Despite its abundance of old-fashioned furniture, the attitude here is anything but old-fashioned. You'll find a lot of LGBT people enjoying the beach and quaint local shops here.
Fort Lauderdale: Fort Lauderdale beach is probably the most popular gay beach around. Many of the hotels (about 20), shops, bars (40!) and restaurants are owned and /or operated by lesbian and gay residents.
You won't find a place more full of acceptance and encouragement for self-expression than Fort Lauderdale. The beach is pretty spectacular too.
Members of the LGBT community frequent many of Florida's beaches and they welcome all different walks of life and lifestyles.
So, if you're looking for gay beaches that are particularly inhabited by like-minded folks, these are among the best.
We welcome your suggestions. If you know other gay beaches, please let us know so we can add them. Thanks!
Note: Since publishing, we have been informed of other beaches that are gay-friendly. We haven't confirmed but check out Apollo Beach, Crescent Beach, Holiday Isle and North Lido. Thanks for those contributions!