South Beach Florida
South Beach Florida and the area around is very upscale with many very exclusive resorts and locations, such as the magnificent Versace mansion and the amazing Art Deco district.
---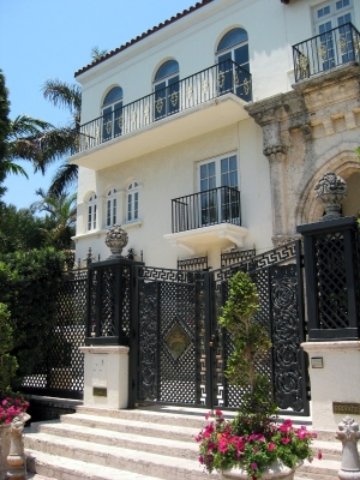 Gianni Versace's former home.
Now a pricy hotel for the well-heeled.
---
Gianni Versace was a well-known, well-liked, down-to-earth top fashion designer whose death in 1997 shocked and saddened South Beach Florida as well as the rest of the United States.
Versace's former home now lives on as a very exclusive, pricey hotel and "party place" for the rich and famous. Tourists stand outside and try to get snap shots of celebs as they come and go as well as pix of his exquisite, beautiful home.
---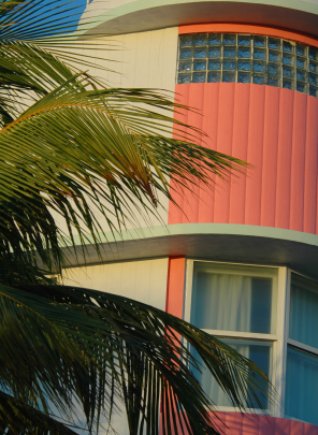 Art Deco example of a downtown building.
---
Art Decor is an eclectic style, born in the 1920's.
South Beach has always been known as a trendy, laid-back and very welcoming vacation destination for those of alternative lifestyles. This is a favorite spot for LGBT.
South Beach is not a legal clothing-optional beach but you wouldn't know that to look at it. People disrobe here easily and comfortably without any problems.
It is suggested the reason for this is the large European populace who vacation here. Europeans are much less uptight about nudity than Americans and most European beaches are a combination of nude and clothed.
No matter what your passion is, you're sure to find it at South Beach and you can enjoy the beach while you let the real you shine as bright as the sun!
Everyone is welcome here. The beach has become more family oriented in recent years but everyone from college kids to honeymooners still flock here.
South Beach is the only part of Miami Beach where surfing is prominent because the water here is so active. So, why not learn body surfing and play like the locals do at this busy, trendy beach hotspot?
If you visit during the week, you might actually get lucky and see the beach without tons of people occupying the white sand and blue surf.
On the weekends, however, the place is hoppin' with lots of people of all ages, partying, laughing and having tons of fun in the sun.
Looking for a place to party like a Rock Star (and with Rock Stars as well as other celebs who will be in attendance)? I thought so; then check out South Beach's world-famous nightlife!
---
---
Great activities to try and nearby attractions:
Take a stroll through the famous Art Deco district in South Beach. Take a guided tour to hear all about the Miami Mafia (yes, there was one!), the Miami Vice (it's not just a TV show!).

Learn all about the history of the gorgeous architecture here. You can bring your dog along on the tour, too!

Indulge your risqué side (as South Beach inspires you to) and take a tour of the World Erotic Art Museum for a museum experience you definitely haven't encountered (at least in the US) before!

Take a tour of Amsterdam Palace (the Versace Mansion) to learn more about the fashion designer whose style is still celebrated today and is carried on by his family.

You can stay at the Versace Mansion for a night if you like, but look out- it's going to cost you. Rooms are around $1,000/ night. And that's for a cheapie.
---
Kids of most ages: Since South Beach is known as a party place, there aren't a lot of activities geared towards little ones, so you'll have to settle for playing on the beach or taking a boat tour or two.
The kids won't be disappointed though because the beach is fun for everyone!
Eating: In South Beach/ Miami Beach you have so many choices; your head will be spinning.
For some DELISH Italian, try La Locanda.
Or for you inner Cuban, you need to check out Sazon Cuban Cuisine.
Sleeping: Since we probably can't all afford a stay at Versace's mansion, we'll have to settle for a lesser-known (and lesser-lavish) choices like Palmer House South Beach Hotel or the Pelican Hotel.
---
Back to Southeast from South Beach
Back to Home from South Beach Florida