Cayo Costa State Park
Cayo Costa State Park, is located on the Gulf of Mexico. Cayo Costa, roughly translated, means 'key coast' and upon arriving, you will agree this park is the key to peaceful beauty and solitude. It must be karma!
---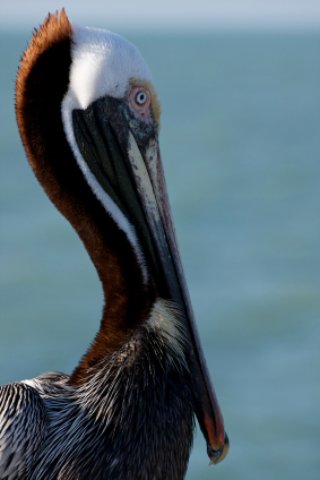 Great detail on this beautiful pelican
---
The park is well known for seashells. First, the sheer abundance of shells will delight you but even better, most of these shells arrive in perfect shape. Yep, they arrive whole, unlike the broken shells you find on most other beaches.

If you have been a shell collector or 'sheller', as those diehards call themselves, you know that it is unusual to find a whole shell, intact and in perfect shape. Those who collect shells, whether for profit or pleasure, love this beach for the beautiful whole shells that are more valuable than chipped or broken ones.

Typically, shells, on their long trip of thousands of miles, have been raked over lots of coral and treated harshly by tumbling wave action and have broken apart in the process.

For some unknown reason, most shells at Cayo Costa State Park arrive whole.

Many visitors come to Cayo Costa just for the shells. Bring the whole family to enjoy the more than 9 miles of resplendent white sandy beaches, beautiful shells and sea wildlife.
---
---
There is so much of this island that it appears to be deserted. You can certainly expect to find your own space if that is your desire.
It is well known for its great camping experience. There are a limited number of cabins available for camping out or just settle into a primitive tent sites. The kids will talk about this vacation forever!
Enjoy off-road bicycling on one of the nature trails or enjoy a leisurely hike through a pine forest, hammock or mangrove swamp to observe preserved nature and animals in their beautiful habitat.
You will lose track of the huge variety of bird species. Avid birders will be in Heaven. If and when you are ready to get active, you enjoy other nature attractions of the park.
Take a charter, private boat or ferry out to the island to experience a literal island escape on this beautifully preserved barrier island and spend the days lounging on the beautiful beaches with white sand and clear blue water.
Come to Cayo Costa State Park and look for beautiful and unique seashells. Observe dolphins, manatees and other ocean wildlife. Don't forget to bring along an umbrella as the island is so sunny and beautifully bright there is not a lot of shade available.
Don't forget your sunscreen and bug repellant either! Enjoy the hiking, bicycling and other various nature activities. Best of all, just relax and enjoy!
---
Why visit Cayo Costa?
Nine miles of beautiful beaches for swimming, shelling and relaxation
Beachcombing, shelling, swimming, snorkeling, scuba diving, boating, canoe/kayaking and saltwater fishing
Concession ferry that visits the island a few times daily, gift shop, picnic tables and grills, restroom facilities and showers
Nature trails for birding, hiking, biking and walking
Open 365 days, including holidays, 8 a.m. to sunset, nominal fees
Overnight camping is allowed; call ReservAmerica to book a cabin or campsite at (800)326-3521
Pets are permitted in most park areas, excluding the beach and cabin areas
Florida State Parks may require entrance fees per person or per car
---
What to Do: The Park definitely provides enough activities to keep you and the family busy, but if you're looking for something else to do in Boca Grande, check out the Boca Grande Lighthouse Museum which is a former home to light keepers and their families that now acts as a museum and visitor center with lots of historical information.
---
---
Where to Eat: While at the park, you are completely secluded so your options are limited to the concession ferry that frequents the island, or cooking your own fresh catch or other food that you bring along.
If you travel off the island to Boca Grande, there are a lot of great seafood places and quant restaurants such as Temptation Restaurant and Bar which offers great seafood and old fashioned dining.
Where to Stay: Of course, camping out on the island offers a special experience, but if you are just visiting the park for the day, there are a few hotels in Boca Grande, such as The Innlet on the Waterfront which provides a nice, relaxing place to stay.
Cayo Costa State Park is located at 880 Belcher Road Boca Grande, Florida 33921 and is only accessible by charter boat or ferry. For more information, call the park at (941)964-0375.
---
Back to Home from Cayo Costa State Park