Fort Lauderdale Florida
Fort Lauderdale Florida is home to the Intracoastal Waterway that meanders around multi-million dollar homes with multi-million dollar yachts parked either in front of (or behind) these mansions depending on the preferred view of the original owner.
---
---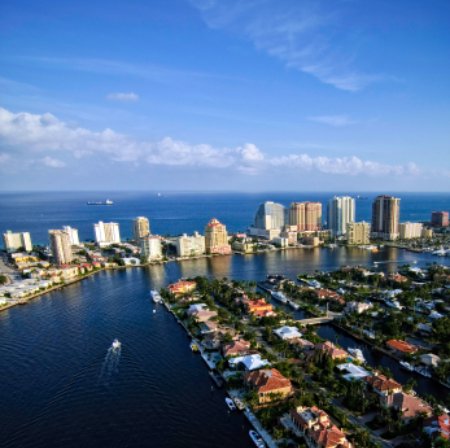 ---
Take a guided boat tour and you will learn about some of the wealthy people who built them, (you will recognize many names) when they built them and who lives here now. I take this tour often and recommend it to everyone! When I get off the boat, I am tan from the sun and green from envy.
Fort Lauderdale Florida beaches are spectacular with gorgeous white sugary sand and clear green water.
Temps are 75-85 F year round so 'season' is all year. Children inhabit the beach during summer vacation and snowbirds call it home during the winter; snowbirds arrive early January and stay through May.
The actual Fort Lauderdale Beach is approximately 4 miles long and runs along the famous Atlantic Boulevard where you can experience all that Ft. Lauderdale has to offer.
Cozy beach shops, decadent and tasteful restaurants and lots of exciting activities line the Fort Lauderdale Beach Promenade. This place is always bustling with people looking for a good time. The award-winning Wave Wall and Beachfront Boardwalk can keep almost everyone interested for hours.
This well-developed beach is home to many seasonal festivals and events such as the Greater Ft. Lauderdale International Boat Show and the McDonald's Air and Sea Show. This has long been a favorite spot for families and people of all ages.
If you're looking for a calmer environment that is not so congested and full of visitors, the heart of Fort Lauderdale Beach is located at "Central" beach, a less developed and frequented part of the beach where you can just sit back and enjoy a more relaxing beach atmosphere.
---
Great activities to try and nearby attractions:
Sports Fans? See the Baltimore Orioles training at the Ft. Lauderdale Stadium in the spring. Even if you're not a baseball fan, it's still exciting to see a professional team hard at work, and who doesn't like visiting fun sports venues?

If you're looking for some great parks to enjoy nature walks and more great beaches, check out nearby parks, Hugh Taylor Birch State Park and John Lloyd Beach State Park for some fun family nature activities and fun in the sun.

Fort Lauderdale Florida is a popular Spring Break destination, so if you're visiting during the spring months, keep an eye out for fun parties and events geared toward college aged visitors (so you can avoid them unless you are college-age and still think being with a mob of college students is a good thing.

Don't forget that boat tour through the Intracoastal Waterway in the pix above.
---
---
Kids of most ages: Take a unique airboat tour through the Florida Everglades at Sawgrass Recreation Park. It's a fun and sometimes bumpy (in a fun way!) ride the whole family will enjoy. If you're feeling especially daring, try holding a baby alligator, which is possible aboard this fantastic tour!
Eating: With a reputation for unbelievable tacos, don't miss Alegria Tacos. A bit on the expensive side, but totally worth it, enjoy delicious seafood and Spanish creations at Café Seville.
Sleeping: Family owned and run, Kira-Mar Waterfront Villas & Docks have very spacious rooms with convenient kitchenettes and is an easy walk to the beach.
For an affordable choice with a classic look and feel, enjoy a comfortable stay in Napoli Belmar Resort which also has a kitchenette and great pool area, and is located minutes from the beach.
Check out Miami and also South Beach while you are in the 'neighborhood'.
Hallandale Beach →
← Delray Beach
---
Back to Southeast from Ft Lauderdale
Back to Home from Fort Lauderdale Florida