Dog Friendly Beaches
Dog friendly beaches. Some of the best Florida beaches welcome your best friend. So, why enjoy all the fun of Florida's pristine beaches without your furry friend?

Pets ARE part of the family.
---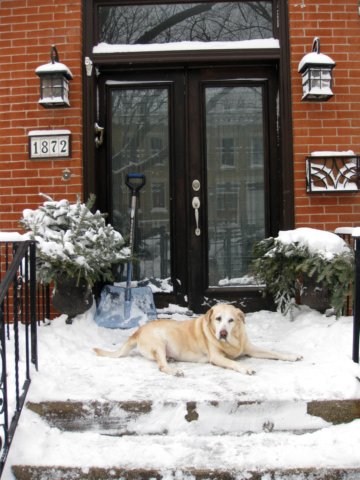 Cody says,
"THINK FLORIDA"
---
In addition to the beaches that allow dogs on their sandy shores, there are many stretches of beach where parking is a little more difficult but you can seek those out for a romp on the beach with Fido.
---
There are a few pet rules to keep in mind
before you come to the beach.
A lot of beaches have leash laws that require you to keep your dog on a leash no longer than 6 feet so make sure you observe that when necessary.

If a leash is not required, be sure your dog remains under your control. Older people are afraid they will be knocked down by a running dog and some people fear them.

Clean up after your dog. Bring your own bags, just in case. Of course if the beach is considered a pet friendly beach, refuse bags are usually provided.
---
---
Our readers tell us they love Juno, Fort Myers and Venice beach with specific dog areas. You'll find a lot of other pet lovers here with their dogs enjoying the water and room to roam and run.
You didn't hear it here but... pet owners tell us they are not hassled on beaches after dark when they take their dogs for a romp after other guests have abandoned the beach for dinner and evening life.
Also, with over 1400 miles of beach area in Florida, there are many sparse or uninhabited beaches where Fido can run to his heart's content.
---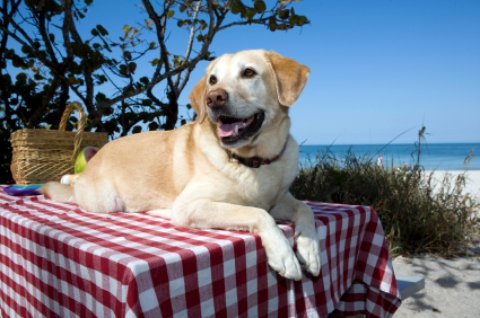 Beautiful lab waiting patiently for lunch.
---
The following are other Florida beaches where your pets are welcome to share your paradise retreat with you but note; often, only some part of the beach will be delegated to pets.
Bradenton Beach
Daytona Beach
Fernandina Beach
Flagler Beach
Fort De Soto State Park
Fort Lauderdale Beach
Fort Myers Beach
Fort Pierce
Hollywood Beach
Jacksonville Beach
Jupiter Beach
Key West (Islamorada)
Miami Beach
Naples Beach
New Smyrna Beach
Pensacola
Sanibel Island
St. Augustine Beach
St. George Island
St. Petersburg Beach
Tampa Beach
Venice Beach
As you can see, dog friendly beaches are strewn about Florida, so by all means, pack up the pup and head on down. Why go on vacation without your lovable pet when you know he or she will love the beach? Beware though; your dog might not want to go back home!
---
Even as a puppy, Cody made sure we found a
dog friendly beach for her to wait out the winter.
---
Got a story and perhaps a pix of your dog on the beach?
---
Does your dog have a best florida beach?
We love dogs who love Florida beaches!

Please send us a pix of your pooch and a story about him or her playing on the beach (please include the name of the dog friendly beach).


What Other Visitors Have Said
Click below to see contributions from other visitors to this page...

Back to Home from Dog Friendly Beaches
analytics