Hallandale Beach Florida
Hallandale Beach Florida is home to Mardi Gras Casino Greyhound Racing Track. Bring money; win some, lose some.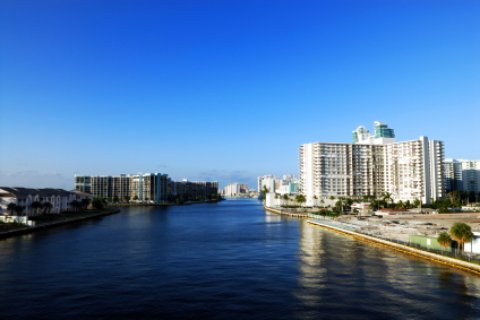 Beautiful Hallandale Skyline from the Intercoastal Waterway.
---
If you are thinking of retiring, beautiful Hallandale Florida. This is a wonderful and popular place to retire because of the beauty, luxury and ease of living it offers.
There are two beaches, north and south, and you should be sure to take the time to visit both and see which one you like better - for future reference, of course.
As a parent, I am wondering if Hallendalepainted their water tower like a big beach ball to delight small children or to make their parents bring them back every year to see it again and again and again?
We have our suspicions but Hallandale Beach did a terrific paint job of this beautiful beach ball and children love it and start looking for the beach ball in the sky from miles away.
---
---
Great activities to try and nearby attractions:
A 'claim to fame' here is the Mardi Gras Casino Greyhound Racing Track. The World Classic is held here each year.

This is a great sandy beach to build sandcastles, set up a volleyball net or spend some time in a beach chair, getting a glow in the sun to take home and make everyone jealous. That is half the fun of a vacation in fabulous Florida, isn't it?

Visit the popular Billabong Pub for fun times and spirits, not to mention pretty good cuisine.

While you're in the area, check out nearby Hollywood Beach which is a beautiful beach AND it has a terrific boardwalk, called Broadwalk, to visit; eat, drink and be merry or just enjoy watching the people.
---
---
Kids of most ages: Wade in the water together and search for seashells. Build a sandcastle and take pix to send us. You just might be a budding architect.
Eating: There is food available on both parts of the beach- find the Beachside Café on the North side, where you can get anything from fast food to fish dinners, even alcohol.
On the South side of the beach, there are food concessions that serve burgers and more modern choices. If you prefer sit down service, try nearby Joseph's on the Water.
Sleeping: Feel like you're sleeping on a cloud at the Hampton Inn Hallandale Beach Aventura. Or, stay in a classy resort- Hallandale Resort Hotel.
Haulover Beach →
← Ft Lauderdale
---
Back to Southeast from Hallandale
Back to Home from Hallandale Beach Florida