Northwest Florida - The Panhandle
Northwest Florida - Beach Vacation Destinations:
• Apalachicola • Crystal • Destin • Fort Walton • Grayton • Laguna
• Mexico • Miramar • Navarre • Panama City • Pensacola • Rosemary
• Santa Rosa • Seacrest • Seagrove • Seaside
---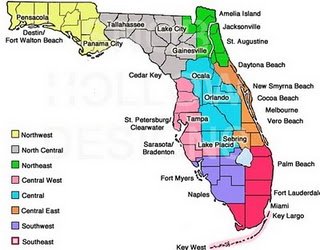 NORTHWEST FLORIDA
---
Along Florida'a Northwest Region
lies one of the most marvelous vacation spots in the world. West coast beaches are lined with lots of white sandy beaches and emerald waters and the Florida Panhandle (or, accurately nick-named the "Emerald Coast") is a favorite spot for tourists and Florida natives.
Apalachicola Florida
Quaint fishing village produces over 3-million pounds of oyster meat a year, plus shrimp and other fish. Love seafood? Come on down, your table is waiting!
Crystal Beach Florida
So serene. This small beach boasts great fishing and seems a million miles away from the rest of the world.
Destin Beach Florida
Title holder for "The Most Perfect Beach" and "The World's Luckiest Fishing Village". No wonder this is the most popular destination on the northwest coast.
Fort Walton Beach Florida
Picture perfect with white sands and some of the largest sand dunes you will ever see. Visit the Air Force Base, Okaloosa Island Pier and the Gulfarium.
Grayton Beach Florida
This beautiful beach has been described as artsy, eclectic and inspiring. A combination of original Florida with a few updates retains old-style appeal!
Laguna Beach Florida Secluded and serene; when the body is begging for a re-charge, and it will, remember this Northwest Florida perfect, private getaway.
---
---
Mexico Beach Florida
A great beach and a town with an old-world charm that comes from the appreciation, preservation and maintenance of historical icons of the past.
Miramar Beach Florida
This beach is quiet and just what the doctor ordered if you are stressed or just want to hang out and enjoy a peaceful day at the beach.
Navarre Beach Florida
Huge sunrises and sunsets and a glorious sun that shines 340 days a year. Water sports abound, join a volley ball game on the beach or just laze on a gorgeous beach.
Panama City Florida
"One of World's Most Beautiful Beaches", "Seafood Capital of the World", "Spring Break Capital of the World". Come for Spring Break only if you still think being with thousands of college students is a good thing.
Pensacola Beach Florida
Put Pensacola, the "World's Whitest Beach" on your beach bucket list. Spend a day in Pensacola, the seaport city, rich in Spanish culture and lavish in history.
Rosemary Beach Florida
Rosemary Beach was fashioned after a West Indies resort. This tropical escape will transport you to another world, like Bali or the South Seas.
Santa Rosa Beach Florida
With rolling white sands, beautiful clear water and excellent shelling, this a proven exciting beach for the entire family.
Seacrest Beach Florida
You'll feel like you just stepped out of a postcard while you're getting golden on this timeless beach. Beautiful live oak trees on the beach!
Seagrove Beach Florida
Warm salty Gulf breezes and a glorious sun giving your body a glow will beat 'a day at the spa' any time!
Seaside Beach Florida
Jim Carrey's movie, "The Truman Show" was filmed in this planned community where all buildings conform to code. Don't miss this charmer!
---
---
Northwest Florida
is also known as Redneck Riviera from bordering several deep south states. Psst. It's okay with us. We kept this area a secret from the rest of the world for a long time.
---
Want to venture further south. Just keep on trucking down the coast to Central West and you find more fabulous white beaches, the sand will still glisten like diamonds, the water and weather will be the same except a little warmer so this is the place to be in winter months!
---
Back to Home from Northwest Florida