Nude Beaches in Florida
Nude Beaches in Florida: Only one legal but many beaches allow discrete nudity. Nude beach volleyball is popular sport.
---
While many Florida beaches look the other way, the State of Florida has only one legal clothing-optional beach and that is Haulover Beach in the Miami area.
---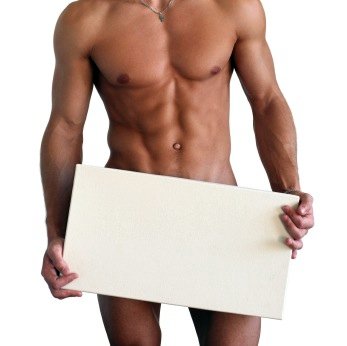 Ahh, this nude guy is in great shape. No complaints here.
---
So, where are the nude beaches in Florida?
Haulover Beach Florida in Miami is the only official nude beach in Florida, listed as "clothing optional" and is recognized as one of the most beautiful beaches in Florida (without some of the out-of-shape nudes, of course). ;-)
However, be careful, only the north end of this barrier beach is dedicated as 'clothing optional'. The area is well marked so there shouldn't be any surprises.
Almost a clothing-optional beach because of its tolerance toward naturism, is South Beach, also in the Miami area.
Many less populated beaches in and around the Miami area don't seem to care either way. These beaches allow discrete nude sunbathing as long as there are no complaints.
---
The beaches are beautiful and sparely populated so you can find secluded spots and no one is the wiser; ergo, no complaints.
Also, with no one around to complain to, you are fairly safe.
However, Haulover Beach Florida welcomes one and all and you will find families with children, LGBT, as well as people of all shapes and sizes. This includes a lot of people you would rather not see naked, but, alas, the right to bare it all is open to all.
A few people here will elect to remain clothed and that is okay, too. It's clothing optional and you will not be looked upon as prudish if you choose to retain your clothing attire.
Often, only one of a couple is nude and the other more comfortable with swimsuit. It is your choice to dress or undress on this beach.
There are lots of activities at this topless and nude beach in Florida as well as the old standby; nude beach volleyball (gulp). Of course, nude beach volleyball at a nude beach is still a bit… ummm controversial, to say the least, but at least you know it will be interesting!
---
---
So where are 'tolerant' nude beaches in Florida?
They can be found among the less-populated beaches along the highway, assuming you can pull off the highway and park which is not always the case. If you can find one of these quiet beaches, you are in luck.

Then, to avoid complaints

be sure you remain hidden from the public driving along the highway. These folks are completely unsuspecting of nudes on the beach, sunning themselves in the all-together. I would love to see the shock on their faces.

Our readers tell us weekdays are best as most beaches are less crowded than weekends.

Create your own nude beaches in Florida. Look for beaches with tall sand dunes such as Topsail Hill State Park which provides natural high sand dunes where you will not be discovered.

Many people wishing to bare it all, will walk along other beaches until they find their little hide-a-way that allows them the privacy to disrobe out of public sight.

Also, some folks create their own nude beaches in Florida with the help of large beach umbrellas, positioned appropriately, to conceal themselves even on more popular beaches.
---
Please remember that nudity is not permitted on well-populated beaches so take some time to find a spot on the beach where you can enjoy the sun, sand and water without any incidents which could ruin a perfectly wonderful vacation. South Beach Florida in the Miami Beach area is so tolerant of topless and nude that many people think it is perfectly legal.
While not designated a nude beach in Florida or clothing optional beach, nudity is done so casually it is not looked upon as a big deal.
---
"Do you know tolerant nude beaches in Florida to share
with our readers? Please use the form below and pass on.
Thanks!"
---
The European influence. This beach is a popular holiday site and heavily visited by our friends from Europe.
Europeans have a much more relaxed attitude toward nudityand virtually all public beaches in Europe are topless and clothing-optional.
There is such an abundance of nudes on the beach on South Beach Florida's gorgeous sand that most people, who might normally complain, will just move to another spot themselves.
Others may think they have landed on a nude beach in Florida by accident and will wander off.
Also, there are fewer children on South Beachand therefore, fewer complaints from parents.
---
---
The key is to be prudent and then there are no reasons for complaints and without complaints, officers or lifeguards tend to look the other way.
Also, since most complaints come from parents with small children, we suggest you avoid family areas where youngsters are present.
Someone suggested it is because parents don't want to spend their vacations explaining things they would rather put off to later, usually much later.
---
Here are some possibilities of nude beaches in Florida from our readers and we would like to hear from you if you know some beaches that are conducive to nude and topless bathing.
• Apollo Beach
• Playalinda Beach
• St. George Island
• Navarre Beach
• Santa Rosa Beach
• Perdido Key

Note, most of these are featured on this website (or will be shortly) and can be found at the end or 'Florida Beaches' on the menu bar.
These are just a few beaches where nudity has been known to be practiced and somewhat tolerated.
---
This is not advice in any way and you could still get reprimanded for nudity; however if you look around and notice that there are others partaking in letting the sun shine where it usually doesn't, then do as you wish until you are told otherwise!
Also, as you read through the beaches on this website, you will find more beaches that tolerate nudity. Our best suggestion, outside of the legal Haulover Beach, is to find a somewhat secluded beach or one with large sand dunes where you will be hidden from public view.
Sunbathing nude can be a very liberating and relaxing experience and as an added bonus- no tan lines! Happy tanning!
We have been asked:
Q. Do I have to disrobe on Haulover Beach? I don't think I can strip completely.
A. No, there are no beaches in Florida that require you to be nude. There is one clothing-optional beach and it is just that; clothing is optional. Some women start with topless but do whatever is comfortable for you.
Q. Will people stare at me?
A. I think that will depend on whether you look really great or really gross. :-) Sorry, but you asked. If you fall in the middle, I doubt anyone will care.
Q. When do I disrobe?
A. On Florida's legal clothing-optional beach, you are safe disrobing at any time and you may walk around in your birthday suit. On other beaches, you will be taking a risk so disrobe discretely and you will probably be okay.
For more information on nude beaches in Florida, see our article on Naturism.
---
Have you found a great beach that allows nude sunbathing?
We would love to hear from you about tolerant nude beaches in Florida that you have discovered.

In fact, we would love to hear about your other experiences on nude beaches. Maybe something funny, embarrassing or shocking?

Perhaps some games that others on a nude beach would enjoy? Anything you would like to share with our readers.

As for pictures, please be prudent.
What Other Visitors Have Said
Click below to see contributions from other visitors to this page...

Back to Home from Nude Beaches in Florida