Apalachicola Florida
What does Apalachicola Florida have over other Florida beaches?
Answer: Yep! Acres of oyster nurseries!
This quaint fishing village produces over 3-million pounds of oyster meat as well as tons of shrimp so if you are a seafood lover, come on down, your table is waiting!
---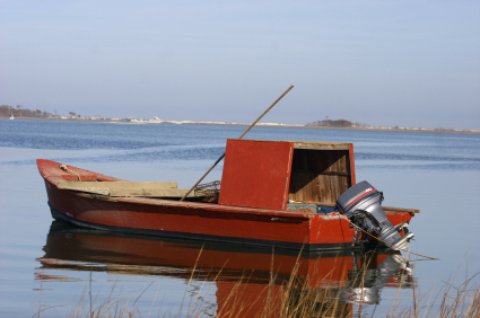 Small Red Oyster Fishing Boat
You don't need a fancy big boat to catch your dinner.
---
Apalachicola is not limited to oysters. How about shrimp? Fresh as you will ever find it! The big shrimping boat below will bring in lots of shrimp. Isn't your mouth watering?
---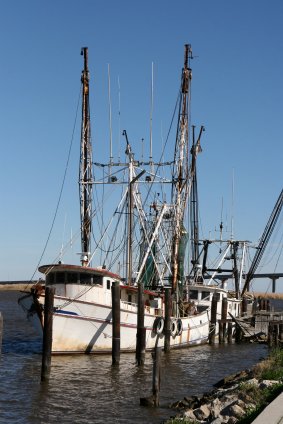 Here's an Apalachicola shrimp boat docked for the night.
---
But, there is a lot more to Apalachicola than oysters and shrimp.
Apalach, as the locals call it, is a little/big town that played an important role in early American history. Cotton was grown on Southern plantations and brought to the Apalachicola River to be placed on barges and floated down to Apalachicola to be bundled and sent to sea.
During that era, the town had a civic center, an opera house, saloons, racetracks and all the things for the well-to-do to enjoy the good life.
There is none of that excitement these days. The town goes to sleep early and rises early to greet the guests who have come from around the world to experience Apalachicola Beach hospitality and the freshest oysters in Florida!
---
---
Most of these beach lovers are seeking only the excitement of a chair in the sun with a big umbrella, the waves of the turquoise water lapping at their feet and white sand that looks and feels like powdered sugar.
Visitors can find miles of this beach perfection at the nearby St. George Island State Park. St George Island, an excellent Florida State Park, has ranked in a 'Top 10 Florida Beach' list.
Big invention at Apalachicola!
During the yellow fever/malaria epidemic in the 1800s,Dr. John Gorrie, fashioned a crude cooling system to comfort his patients and this first primitive air-conditioner is on display at the John Gorrie Museum. A must see! (Thank you for air conditioning, Dr. Gorrie!)
---
---
Great activities and nearly attractions:
Walking the town is a must. You can take a guided tour or get a map from the Chamber of Commerce and do it yourself in an hour or so.
The town is over 100 buildings rich in heritage and you can marvel at the remnants of the huge cotton and sea sponge warehouses where so much history was made in a lifetime long ago.
The beautiful antebellum homes in Apalachicola Florida are reminiscent of a world that used to be (for the rich, anyway); in this case, the riverboat trade that made fortunes during the cotton heyday.
You can boat, fish, take charter trips or just laze on a beautiful beach. Sorry, you can not fish the oyster beds but you can watch the fishermen tending some of the 10,000 acres of oyster nurseries. And you can eat oysters to your heart's content.
The big warehouses that held cotton still exist and can be seen on your walking tour.
---
Don't miss beautiful Apalachicola Florida on the eastern end of the Emerald Coast aka the Panhandle!
Crystal Beach →
← West Palm Beach
---
Back to Northwest from Apalachicola
Return to Home from Apalachicola Florida