Seaside Beach Florida
Seaside Beach Florida is a beautiful planned community on the Florida panhandle. Some of you may remember this idyllic place from the movie, "The Truman Show", with one of America's favorite funnymen, Jim Carrey.
The stylish community of Seaside Beach sits right on this beach. As a planned township, all the buildings in the area must conform to code so there is little of the variation you see in a typical neighborhood.
---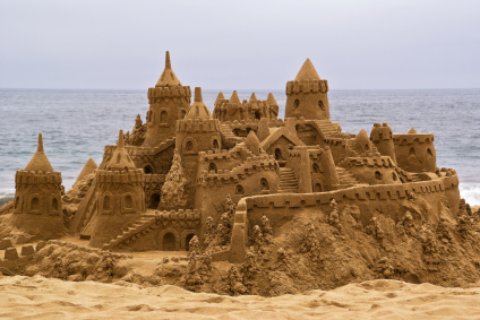 If you plan to build a sand castle,
remember to get a permit from city hall. (Just kidding).
---
Lovers for honeymoons, anniversaries, or just a romantic getaway frequent this Florida beach. A lucky few even get to call this incredible paradise home.
Filled with beautiful condos and cottages, Seaside Beach is an inspiration as well as a great place to live or visit.
The plan to build a tropical paradise succeeded well and the local residents love their serene setting and who wouldn't?
You will truly envy the residents here when you visit, (as I did) and may decide to stay yourself (I wish)!
Could you handle a gorgeous community with white sandy beaches and incredible sparkling blue-green water all the time?
My friend remarked that it seems like a town where many dreamers come here to dream… or make their dreams come true.
---
Great activities to try and nearby attractions:
The activities found here at Seaside Beach Florida are leisurely and laid back, just like the beach atmosphere and community.
There are several art museums featuring work from local and national talent, such as The Art of Simple.

Stroll through this unique art world and find a souvenir for yourself; perhaps a great piece of artwork from the local artisans to bring home to remember this holiday.

Fired Up Paint-Your-Own Pottery allows you to become inspired yourself and create your own pottery creations.
Enjoy lots of great shopping, including beautiful jewelry designs at Shimmering Seas Jewelry.
---
Kids of Most Ages: Let your kids create their own teddy bears at Bears at the Beach, a great fun toy store that allows you and the kids to create your very own teddy bear creations.
Eating: Designed by a handbag creator, Inn by the Sea, Vera Bradley has surprisingly scrumptious food.
There are other small and quaint places to choose from, all of which are original, such as Heavenly Shortcakes and Ice Cream for decadent deserts. It's okay, you are on vacation.
Sleeping: Rent a cottage or vacation rental to get a truly memorable experience, or stay in a nearby hotel such as the beautiful Seascape Resort.
Watch the movie, get all excited about this adorable community and come on down!
Apollo Beach →
← Seagrove Beach
---
Back to Northwest from Seaside
Back to Home from Seaside Beach Florida