Destin Beach Florida
Destin Beach Florida, as title holder of "The Most Perfect Beach" and "The World's Luckiest Fishing Village", is the most popular destination on the Gulf coast.
---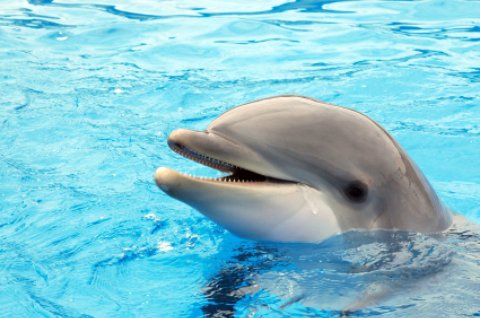 How smart are Dolphins?
Within a short period of captivity, they train people
to stand on the edge of the pool and throw fish to them.
---
Destin has won many awards
for its perfect pristine white sand and beautiful clear emerald water and some say, 'It just seems to get better every year'.
Gorgeous white sandy beaches to relax on and beautiful shells for the collector provide two activities on this breathtakingly beautiful beach.
---
Another big draw here
is fishing where the cards are stacked in your favor.
Florida's largest charter boat fleet is here with more than 140 vessels and experienced captains who know where the fish are waiting for your hooks.
Deep sea fishing, rare in most places, is popular at Destin Beach Florida because of rare water depths closer to shore than usual.
So, all of you experienced fishers or wannabes, come on down and catch your share of grouper, pompano, king mackerel and others. Have a restaurant cook them for you or have 'em packed to send home.
Destin Beach Florida and its neighbor to the east, Ft. Walton Beach, are part of the Emerald Coast and boasts 24 miles of beautiful, untouched beach that is protected from development to preserve the natural beach and wildlife communities.
After you enjoy a long walk along Destin's soft sandy beach, make sure you check out as many of the restaurants (this is no place to diet) and other attractions as you can.
---
---
Great activities to try and nearby attractions:
One of the most notable Destin attractions, the US Air Force and Armament Museum, is a captivating experience for any war history enthusiast and is also of interest to children and families with over 25 real life aircraft on display.

The Indian Temple Mound and Museum aka Miracle Strip Parkway is another pleasure filled attraction for history enthusiasts where you can learn about and see displays from over 10,000 years of history from four interesting Indian tribes.

The Destin Bridge is located inside Air Force Base and allows visitors to enjoy a stroll through a natural wildlife preserve.

Visit during May through August and get a glimpse of some bird species nesting.

This is also one of the only areas you can see a large presence of bottlenose dolphins.

Visit Henderson Beach State Park to experience one of Destin's great beaches and wildlife preservation.
A shopping lover's oasis, Silver Sands Factory Stores contains a lot of high class and name brand stores for your shopping pleasure, such as DKNY and Coach.
---
Kids of most ages:
Kids will enjoy visiting some of the attractions mentioned above, especially the
Air Force Armament Museum
because of the amazing aircraft displays.
If you're looking for something simple to do with the kids, just spend a day at the beach, build sand castles, play volleyball or kayak through the gorgeous water. Whatever your kids like, you are sure to find lots of ways to entertain them.
Eating: For decadent and quite unique creations, try Buster's Seafood & Oyster Bar where you can enjoy some unexpectedly original flavors and varieties of food, such as seagull legs.
For a great family dining option, try Fudpuckers, which offers a wide variety of affordable choices for any palette.
---
Sleeping:
Experience the comfort and class of the Best Western Chain but with a unique Spanish-style decor at Best Western Summerplace Inn. Located only one block from the beach, this is a great moderately priced choice.
For reliable comfort on a budget, there is a Motel 6 with an outdoor pool for when you don't feel like making the trip to the beach that is pretty centrally located to most attractions.
---
---
There are so many great places to see and visit that you will be sure to return to Destin Beach Florida and bring your family and friends.
Fort Walton Beach→
← Crystal Beach
---
Back to Northwest from Destin
Back to Home from Destin Beach Florida