Skip Loves Walton Rocks Beach
by Bob
(Fort Pierce, FL, USA)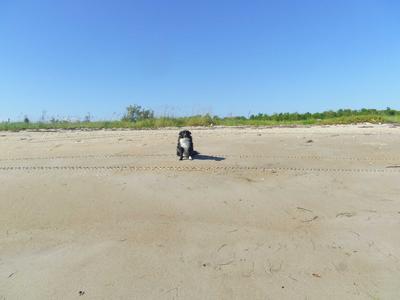 Skip sitting on the beach.
Walton Rocks Beach is in St. Lucie County, 12 miles south of Fort Pierce, on A1A (Just south of the St. Lucie Power Plant. It is about two miles long and as long as your dog is under your control, a leash is optional.

There are three areas to park and each area has basic facilities. (Bathroom and Shower.) The southern most parking lot also has pavillions with picnic tables.

Each beach access has a pet waste station set up so there is no excuse not to pick up after Fido... (But, be careful where you step because a lot of owners are not as courteous...)

Once you're on the beach... at the busiest time (Saturday and Sundays) you'll be completely surrounded by owners and their pets... There will probably be at least twenty or so people and half as many dogs... LOL!!! (It's really very crowded there...)

Unfortunately, the reason this beach was picked as a dog beach (and what lead to the name... is because of the surface under the water at the shoreline...

Walton Rocks is the largest deposit of Brain Coral Reef that is within feet of the shore line which makes it very difficult to safely swim (or dive, etc...) But, great to wade in the water with poochy...

It's one of the best dog beaches that I've ever been to with my dog Skip.

Editor's note: Bob, Skip is very lucky to have you and vice-versa. Thanks for another great article and an excellent tip on doggy beaches. ps; We have yellow labs. Aren't dogs the beat?

Okay, Mr. Hugglesworth and AJ, cats are fantastic, too, so stop looking at me like that. Jean
Join in and write your own page! It's easy to do. How? Simply click here to return to Dog Friendly Beaches.