Venice Dog beach- April 2011.
by Nancy Beardsley
(Venice dog beach, Venice, FL)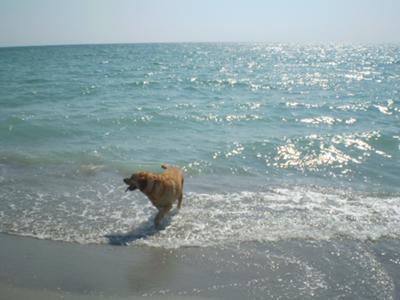 Just some new shots at Venice Dog Beach. These are recent. 4 years later than the other article. As you can see, Mia has grown and still enjoys the water a lot. On this day, 4/19/11 at 3 PM. on a Tues., many other dogs and owners are enjoying it too. One dog owner even came by sailboat with her best friend. With the airport nearby, you can watch the planes come and go at close range! They often look like they are going to land on the beach. I have also seen manatees and dolphins in the shallow water at this beach. Last photo is on the way home and speaks for itself. LOL
Join in and write your own page! It's easy to do. How? Simply click here to return to Dog Friendly Beaches.