Vilano Beach Florida
Vilano Beach Florida is a hidden treasure on Amelia Island. Vilano Beach is located just northeast of St. Augustine and holds title to some real estate covered with the softest, powdered sugar sand you will ever see.
---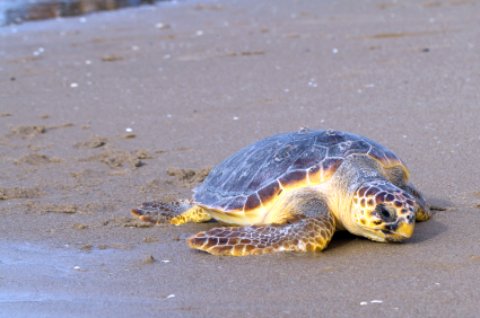 The adult loggerhead trudges between sea and
nest to either lay or check on eggs.
---
This beach is a huge nesting spot for turtles. Hopefully you will enjoy watching these ancient animals lumbering back and forth from sea to nest.
Do not touch or bother adult or baby turtles. It is against the law and there are fines for not obeying this law!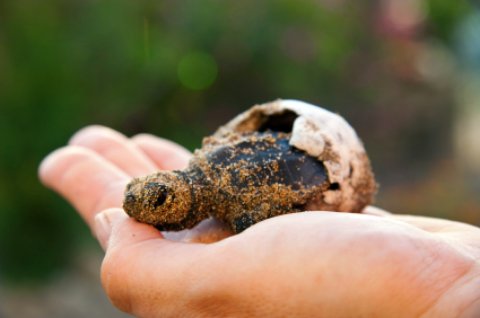 This is a baby loggerhead turtle just hatched.
He is being held by the park ranger.
---
(pssst parents) This could be a good educational lesson for the kids when they go back to school and have to write about what they did on their summer vacation.
Encourage them to take pictures of loggerhead turtles to include with their report for 'show and tell' when school starts in the fall.
The waves at Vilano Beach Florida are pretty monumental so sports such as surfing, wave-boarding and skim-boarding are popular here.
Fishing is also popular so you may want to go to Porpoise Point where lots of fish live and are waiting for you and the fight of their life. Yeah, they are really sweating your fishing pole. ;)
---
Great activities to try and nearby attractions:
Amelia Island State Park offers an opportunity to get back to nature and presents the quiet peace that the entire island encompasses. You can ride horses right on the beach on Amelia Island. There is also a beautiful serene beach for maximum relaxing here.

Brimming with military history is another natural sight seeing opportunity at Fort Clinch State Park.

Take a tour aboard one of the boats at Amelia River Excursions and a sightseeing ride around this serene barrier island.
---
Kids of most ages:
Take the kids to the
St. Augustine Alligator Farm
where they can learn all about their favorite reptiles and get to see a lot more than just alligators, such as the tropical birds that also occupy the farm.
Eating: There aren't a lot of places right on Vilano Beach to eat but there are plenty in Fernandina Beach, located right on Amelia Island as well.
Grab a bite at the Happy Tomato Café or the Beech Street Grill.
---
---
Sleeping:
There are lots of great campsite locations all over Amelia Island but if you prefer to stay indoors there are a lot of hotels as well.
The Ritz-Carlton- Amelia Island gives you a first-class stay or you can try a less expensive but just as highly rated hotel like the Hampton Inn & Suites Amelia Island.
---
Back to Northeast from Vilano Beach
Back to Home from Vilano Beach Florida