Amelia Island State Park
Amelia Island State Park was named a Top 10 North American Island in a Conde Nast Traveler's Reader's Choice Awards.
---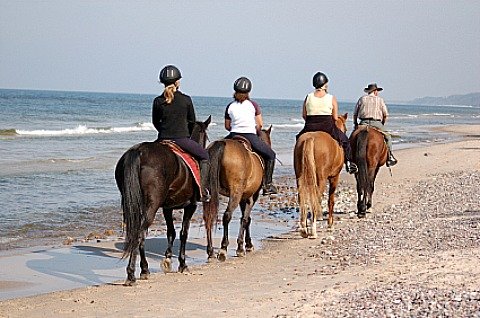 One of the most exciting things about this park is that you can ride horses right on the beach.
---
.
Who hasn't wondered what it would be like to ride a horse on a beautiful beach at sunset? Almost like a dream come true!
---
Also, the beautiful salt marshes and preserved coastal forest gives you a glimpse of the way Florida beaches looked when untouched by man; peaceful, lots of wildlife… full of nature and untouched beauty.
---
---
Many beaches on Amelia Island include American Beach, Fernandina Beach and Fort Clinch State Park. Be sure to read all about them on this site.
Amelia Island offers activities for all tastes such as golfing, historical exhibitions, boat tours and more.
---
Visit Amelia Island State Park
Natural untouched wilderness and beautiful preserved beach
Canoeing/ Kayaking, fishing, horseback riding, wildlife viewing
Barrier Island and Florida State Park
One of the southernmost "Sea Islands", which are a chain of barrier islands that stretch along the east coat of the U.S.
Located at the tip of Amelia Island, which offers lots of activities for people of all ages
---
Things to Do: Since you're in the area visiting the park, why not experience all that the little sea town of Amelia Island has to offer?
Take a scenic river cruise or charter on the Amelia River. Relax while you hear the history of this fascinating and beautiful island town.
If you and the family enjoy history and exploration, visit the Amelia Island Historic District for shopping and fun.
Where to Eat: Visit one of the many choices in Fernandina beach, also located on Amelia Island, such as Ciao Bistro (for Italian lovers).
Try Bright Mornings Café if you're looking for a menu the whole family will enjoy with more traditional options.
Where to Stay: There are a lot of really great hotels on Amelia Island. Residence Inn Amelia Island is in a beautiful setting with great service.
It's a little pricier, but the Elizabeth Pointe Lodge offers an unforgettable beach stay experience with an accommodating staff.
Be sure to visit nearby Fernandina Beach Florida and see where the shrimping industry was born. And, of course, eat your fill of the most fabulous fresh shrimp in Florida.
---
→ Anastasia State Park
← Washington Oaks Gardens State Park
---
Back to Florida State Parks from Amelia Island
Back to Home from Amelia Island State Park
---