St Augustine Florida
St Augustine Florida is historically significant as the oldest permanent settlement in the United States. It has been continuously occupied since 1565.
---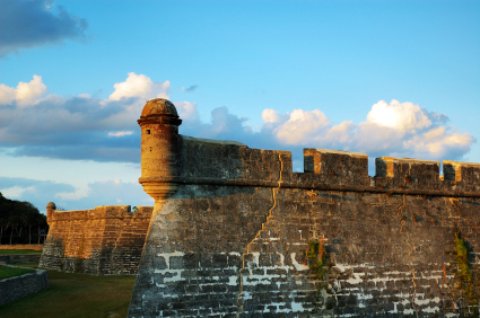 One of the oldest forts in the United States,
Castillo de San Marcos, can be seen in St Augustine Florida.
---
Construction began in 1672 by the Spanish when this area was owned by Spain. See this incredible remaining icon of history.
Remnants of a past time in history give you a glimpse of life through the time-line of this era.
Many of the original structures of this settlement that began over 400 years ago have been renovated and kept in good shape for current and future generations.
A unique feature that will greet you at the beach upon your arrival is a natural rock formation. There is also an obvious absence of sand here but a short drive away will take you to an oasis known as
Hurricanes have taken their toll on St Augustine's beach. They took sand and left rock. Not a fair exchange but hurricanes are never fair.
---
Have you ever seen a ghost? We hear ghosts inhabit many old buildings here. Share your story! Use the form at the end.
---
Great activities to try and nearby attractions:
Be sure to allow time to visit Castillo de San Marcos, picture above.

Visit the St. Augustine Lighthouse and Museum and climb to the top. Learn about this lovingly maintained lighthouse that has been standing for more than 100 years. Pssst: Careful, watch for ghosts, this place is supposedly haunted.

Visit the Flagler Museum and the Bridge of Lions.

Now, for the fun stuff; this city is HAUNTED so you must take some ghost tours. Take a horse-drawn carriage at night and listen to the driver's ghost stories.

See the HAUNTED Old Jail and other places where the spirits lurk, waiting for you to come by and dare you to disturb them. I would be verrrrrry careful here.

Sometimes the GHOSTS go home with people on the tour. Okay, we made that up but you can tell the other people on the tour that you read that somewhere (because you did, here).

Get the beaching experience you're probably used to in Florida at Anastasia State Park where you can also enjoy fishing, boating, picnicking, hiking through a maritime forest and lots of other outdoor fun.

Spend the day with dolphins, sea lions, penguins and other ocean wildlife at the Dolphin Conservation Center at Marineland for a fun and scenic experience.
---
Kids of most ages:
Kids who don't scare easily will enjoy St. Augustine Alligator Farm and Zoological Park where over 2,700 alligators and crocodiles reside.
It's also home to ducks, geese, swans, herons, egrets, and many others. This makes for a very educational and entertaining experience that the kids will love.
---
---
Eating:
Try a few of the 23 ways that shrimp is prepared at Sharky's Shrimp Shack or enjoy incredible beach views while you enjoy some yummy creations at Sunset Grille.
Sleeping: Enjoy incredible beach views and easy beach access at Ascend Collection Castillo Real or Crescent Silver Sands Motel for a stay that's no-frills, inexpensive and comfortable.
---
Have you ever seen a ghost?
St. Augustine is an old city and people claim to see ghosts here in many ancient buildings downtown. Take a tour and see for yourself!

The tour guides know where the bodies are buried, so to speak. Be sure to count everyone in your group on the tour and be sure everyone returns.

Or, perhaps another time and place you had an eerie experience or heard strange noises that sounded ghostly. Were you scared?

Sometimes, they say, the spirit of someone who has died and not yet crossed over will appear in some shadowy, weird, ghostly form. Or, out of the corner of your eye you may see something move or dart around.

Sometimes a room will feel cold as you walk through and other times, you may sense an odd atmosphere. Have any of these happened to you?

Tell us! We would love to hear your ghost story!
What Other Visitors Have Said
Click below to see contributions from other visitors to this page...

Oasis Ghost Not rated yet
My girlfriend and I were at St Augustine beach and we had to go to the bathroom so we decided to walk to Oasis Restaurant down the street. As I was waiting …
---
Back to Northeast Florida from St Augustine Florida
Back to Home from St Augustine Florida