Vero Beach Florida
Vero Beach Florida invites you to come for sun and sand and while here, maybe pick up a few gold coins or silver jewelry worth thousands of dollars.
Vero Beach is the heart of the Florida Treasure Coast so keep your eyes on the sand as you traipse along.
---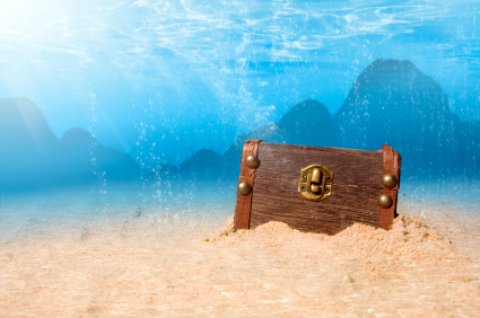 ---
Why?
In the 17th century, some Spanish galleon ships went down in a storm off the Vero Beach shore and stayed on the ocean floor for a couple hundred years.
No one knew the location of these shipwrecks until gold and silver began appearing on the beach. After all those years, the wooden ships had begun to disintegrate and had started releasing their riches.
Gold, silver, jewelry or some wonderful antique treasure will occasionally become dislodged from its hiding place and hitch a ride to the shore on the back of a wave.
No telling how many exciting artifacts are out in the ocean, buried in sand, lodged under or behind coral or in underwater plant-life that might get untangled and show up on the beach as you are walking by.
Have you ever dreamed of winning the lottery or finding a diamond or an emerald that you can keep? Finders Keepers!
---
---
Some folks think
Vero Beach Florida, the beach, the water and the sun are treasures and don't feel they go home empty-handed if they don't pick up a bauble or two.
Home to Dodgertown Stadium, this city and its beaches have so much appeal. Although Dodgertown currently is only home to the minor leagues, it's still a popular tourist attraction.
Surfing is great on Vero Beach Florida. Also, try wave boarding on some of Indian County's best waves on the lower end of Vero's South Beach shore or play some beach volleyball. Or do what I do and relax on a serene beach and dream of living here. Be sure to come with boogie boards for the kids.
---
Great activities to try and nearby attractions:
Another great surfing location, nearby Sebastian Inlet State Park provides lots of entertainment like shelling, fishing, bird watching, canoeing, hiking…. (the list doesn't end).

An endless array of fun in the sun and nature can be found in this gorgeous park.

Find more bird watching and fun in the sun and water at another great park located nearby, Fort Pierce Inlet.

Explore some of Florida's finest artwork and sculpture at Vero Beach Museum of Art.

Spend an afternoon exploring McKee Botanical Garden, 18 acres of exotic plants, flowers and trees, as well as some that are native to this beautiful region f the world.
---
Kids of most ages: Be sure to make a trip to the McLarty Treasure Museum where you can see some of the treasures that have been salvaged from these shipwrecks.
Eating: Kick back and relax (although you do have to leave your shoes on) at The Barefoot Café, which offers affordable and delicious dishes with friendly service. Experience a little bit of New Orleans style cooking at The French Quarter.
Sleeping: Stay right on one of the best Vero beaches at South Beach Place or enjoy quiet seclusion at The Caribbean Court Boutique Hotel.
Boca Raton Beach →
← Stuart Florida
---
Back to Central East from Vero Beach
Back to Home from Vero Beach Florida