Ponte Vedra Beach Florida
Ponte Vedra is a highly exclusive and wealthy community with an exotic name (pronounced "Ponti-vee-dra) that represents and defines a privileged class.
Nick-named the "Palm Beach of Northern Florida," this is the landing destination for elite and high-class executives of Jacksonville Beach Florida.
---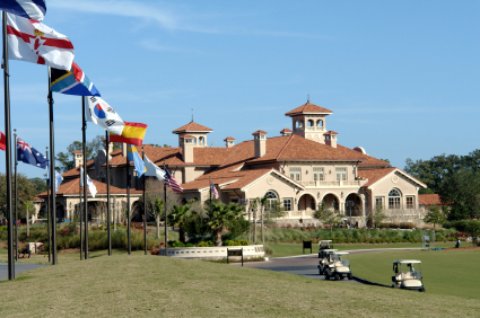 Big deals are made right here during rounds of golf.
---
Very large and very expensive homes line this beautiful beach. Some of these are 'pricy rentals' where you can be a prince or princess for a little while but alas, the pumpkin doth return.
"On the cheap" doesn't exist here so don't expect a big vacation bargain. Not a Motel 6 in sight!
If you are intrigued and want a peak at how the rich and famous live, there is a public beach access that will that will allow you to get on the beach and gawk to your heart's content.
Walk the beach, see the mansions and maybe dream about what might have been – or still could be – if that lottery thing ever comes through for you!
---
Great activities to try and nearby attractions:
For a very inexpensive (which is a rarity here) and educational experience, visit the Guana Tolomato Matanzas National Estuarine Research Reserve Science Museum.

Enjoy shopping in some very fancy and world-class shops or hang out in one of the relaxing resorts here.

Try wave boarding or snorkeling in the crystal blue water or bring a good book and relax on the beach while the kids build a sand "mansion." You might need a permit to build anything less.

Enjoy golfing on one of the pristine courses or playing tennis on one of the beautiful tennis courts.
---
Kids of most ages: Hang out at one of the exclusive beach resorts such as the Serenata Beach Club which offers a fun pool area to keep kids entertained and provides good food and atmosphere for the adults too.
Eating: There are a lot of high-priced and classy choices, but one of the best that is recommended by locals is Restaurant Medure which is definitely worth the fancy prices. For great fish and homemade dishes, try Palm Valley Fish Camp
---
---
Sleeping:
Being a big resort vacation destination, you have lots of choices. A very luxurious and exclusive choice is the Ponte Vedra Inn and Club.
For a comfortable stay that is a little bit less expensive, try the Hilton Garden Inn Jacksonville.
Do come! In spite of the mansions and resorts here, you will find this a surprisingly friendly community!
---
Back to Northeast from Ponte Vedra
Back to Home from Ponte Vedra Beach Florida