Anastasia State Park
Anastasia State Park: Anastasia, 4 miles of white quartz Heaven and a fav scenic beach and camping destination. Anastasia is a year round haven and offers many activities such as windsurfing, sailing and canoeing on the gorgeous Salt Run Lagoon.
---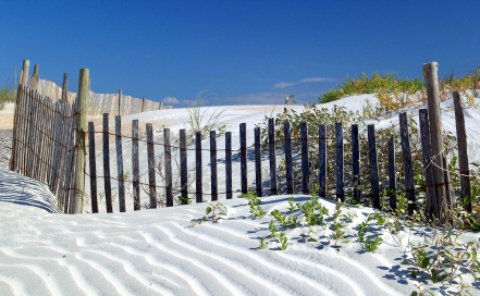 ---
Scenic sand dunes, like the one above,
provide privacy on a beach and allow for plenty of peace and quiet.
This sand dune is artificially created. A small fence was put up to stop the blowing sand and as the sand piles up, a little (or big) hill is created.
Sand dunes are usually created naturally but can be created wherever desired with a little help, like a fence, to serve as a barrier to stop the sand in the place where a dune is needed.
---
---
Eventually, seeds of the flora in the area (like the grassy ground cover seen above), will take root and grow out of the sand dune.
After the sand dune becomes established, the fence can be removed.
Sand dunes give birds, turtles and other small animals some respite from the hot sun and give the beach a lovely tropical landscape characteristic.
Fishing is popular at Anastasia State Park and the fish species are abundant, including bluefish, pompano, redfish and flounder. So, if you are a hooker, well, you know, come on down.
There are also plenty of opportunities for the avid birdwatcher to spot many types of exotic birds.
For the kids, check out the Bedtime Story Camper Lending Library for great picture books for young children.
If you're looking for a peaceful outdoor getaway that offers lots of fun activities for the entire family, visiting Anastasia State Park is a must.
Entertain yourself with leisurely activities for as long as you want… you won't want to go home!
---
---
Why Visit Anastasia State Park?
Beautiful four-mile beach for sunning, smooth sand and calming water
Beachcombing, shelling, swimming, snorkeling, boating, canoe/kayaking, surfing, and saltwater fishing
Concession stand with gifts and snack bar, picnic tables and shelters, playground, restroom facilities and showers
Camping year round (full facility) is only a short walk from the beach, call ahead for reservations
Camping store where you can buy camping and fishing supplies or rent bikes, beach chairs and other beachy necessities
Nature trails for hiking, bicycling, wildlife viewing and birdwatching
Open 365 days, including holidays, 8 a.m. to sunset, nominal fees
Florida State Parks may require entrance fees per person or per car
---
What to Do: Rent a canoe or kayak from Anastasia Water sports or enjoy a surfing lesson.
Take the kids to St. Augustine Alligator Farm and enjoy a day of fun feeding, petting (yes, petting!) and learning about alligators and other wild animals.
Where to Eat: If you're in the mood for something creative and unique (not to mention completely romantic), check out the Collage Restaurant in St. Augustine, which offers "eclectic" or creative dishes that are simply delicious.
If you're looking for a more kid-friendly place, try Barnacle Bill's- Castillo Dr. for affordable and tasty seafood and American cuisine choices.
Where to Stay: If you are not a camper, and some of us are not, there a lot of great hotels located in the St. Augustine area (with 24-hour room service to grant our every wish).
For great values, check out the Cozy Inn, which lives up to its name, or the Anastasia Inn, which is located near the park and lots of other attractions.
You are too close to fabulous St Augustine, our nation's oldest permanent settlement, to not take a trip there and see some of the remnants of life during and since 1565. Here is a link for you to check out St Augustine Florida.
Anastasia State Park is located at 1340-A State Road A1A South St. Augustine, Florida 32080 Phone- (904)461-2033
---
Got to Florida State Parks
Go to Home from Anastasia State Park