Melbourne Beach Florida
Melbourne Beach Florida: Big waves here! If you want to please the surfers in your group; stop, do not pass go, do not collect $200, just book a place to sleep and come on down and ride the waves!
Melbourne and nearby Sebastian Inlet State Park offer the best waves on any Florida Coast so come on down and catch 'em. You will be glad you did.
---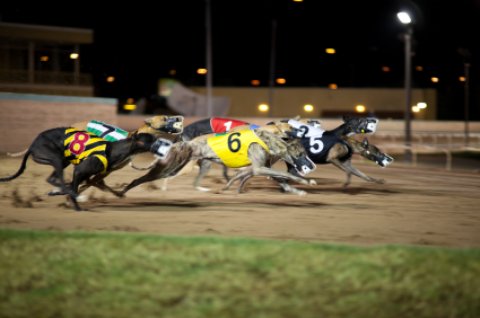 Feeling lucky? Head on over to
Melbourne Greyhound Park for some betting.
---
A family beach for sure, Melbourne Beach Florida offers the right amount of privacy and seclusion needed for a relaxing day at a beautiful beach.
The beach is lined with small hotels and homes. It's enviable that people actually live here. The sand is very white, the water is very blue and the atmosphere is very calming.
Named for Melbourne of Australia by the first postmaster of this small beach town, Melbourne beach still maintains its original architecture in some areas, such as the two historic districts located downtown.
After spending a day relaxing and playing in the sand and sun on the beach, you and the family can enjoy some of the specialty shops and eateries here.
---
---
There are dolphin cruises you can take to get up close to the dolphins playing in the water around Melbourne Beach.
Dolphins are such delightful little critters you will come back with a smile plastered to your face that you won't be able to erase for awhile.
---
Great activities to try and nearby attractions:
Be sure to visit the McLarty Treasure Museum in Vero Beach. The museum is built on a survivor's campsite for those that survived a shipwreck of an entire Spanish fleet in 1715.

There are treasures and interesting artifacts on display here that have been salvaged from the shipwrecks as well as a diorama of the Spanish Plate Fleet.

You can also enjoy an incredible view of the Atlantic Ocean from an observation deck.

A fisherman's favorite, Sebastian Inlet State Park offers a nice beach as well and is a popular surfing spot. Enjoy hiking, museums and other great attractions here.

Paradise Beach Park is also located in the city of Melbourne. You can explore sand dunes here and just find another peaceful place to escape if you wish.

Bring a picnic lunch and stay all day. Don't forget sunscreen!

Explore the mysteries of the unknown and learn about our country's innovative space exploration programs at nearby John F. Kennedy Space Center.
---
Kids of most ages: Let out your inner race car driver on the go-cart speedway at Andretti Thrill Park which also has lots of other fun activities such as laser tag, arcade games, batting cages and more.
For the little ones, the Brevard Zoo is a nice small-town zoo with animal fun for all.
Eating: Check out the Beach Street Eatery for great American dishes such as classic and delicious burgers, large portion sizes but small prices.
If you like Asian food, don't miss Siam Orchid.
Sleeping: To maintain the private seclusion of Melbourne beach with awesome ocean views, stay in the Tiara By the Sea.
Another nice beachfront hotel is the Sea View Resort Hotel.
Plan to come on down and check out our Melbourne Beach Florida; you may not get to Australia for years.
New Smyrna Beach →
← Jensen Beach
---
Back to Central East from Melbourne Beach
Back to Home from Melbourne Beach Florida