Jensen Beach Florida
Jensen Beach Florida: This very special beach is known as the "Sea Turtle Beach" for the big variety of sea turtles that hatch here.
But, it is also know for surfing, white sandy beaches, sparkling water and being a dog friendly beach.
Lots of turtle breeds, including loggerhead, leatherback and green sea turtles breed here so this beach does its part in maintaining a wonderful habitat for some of these endangered turtles.
Visit the beach and you will often see these old rugged turtles, lumbering past your chair from the ocean to their nests to deposit their eggs.
---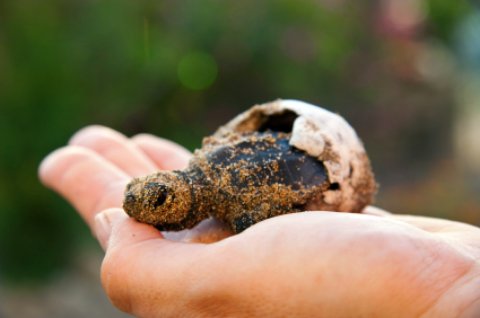 A new baby loggerhead turtle is emerging from its shell
---
Be aware it is against the law to bother or hinder these protected animals in any way. (A beach ranger is showing the new baby).
Besides being a spectacular beach located on Hutchinson Island, there is a bonus to tell you about...
Yep, you can bring your dog along. They have to be leashed but at least they get to come. Many Florida beaches don't allow our furry friends but this one does so this makes Jensen an appealing beach for animal lovers.
---
Great activities to try and nearby attractions:
---
---
Kids of most ages: The areas where sea turtles lay eggs are usually blocked off to preserve these precious creatures, but you can probably get a glimpse of one of these magnificent sea turtles laying their eggs.
There's nothing like cute little sea animals to bring smiles to kids' faces.
Eating: For a small joint with great American and seafood options, check out Caps Island Grill.
For a little bit more money (but it's well worth it!) check out the locally owned Dolphin Bar and Shrimp House.
Sleeping: For an extremely relaxing stay with beautiful scenery, not to mention a price you can afford, stay in Caribbean Shores Hotel & Cottages.
For a stay in a great chain hotel, Courtyard by Marriott Hutchinson Island Oceanside/ Jensen Beach is great.
Melbourne Beach →
← Indian Harbour
---
Back to Central East from Jensen Beach
Back to Home from Jensen Beach Florida