American Beach Florida
American Beach Florida has deep roots in American history as the first and only African-American beach in Florida during the 1930's when segregation was practiced in this country.
This delightful and friendly beach is still predominately African-American but everyone is welcome. It is a beautiful beach nestled in between two upper-class white Amelia Island communities.
---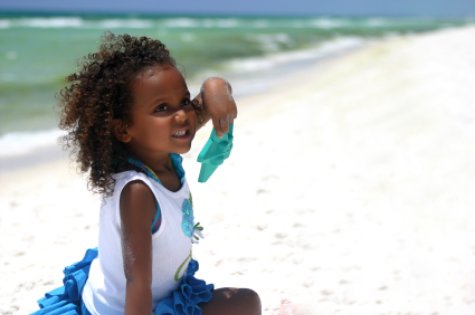 Beautiful little girl on beach with a toy starfish.
---
In comparison to the surrounding communities, American Beach appears a bit run down and rough around the edges but it provides a very quiet and relaxing getaway for nearby residents and those looking for a place that celebrates African-American history and pride.
To its benefit, the lack of development gives the beach a comfortable serenity that the locals want to keep. Visitors may complain a bit but the area residents prefer it just the way it is and plan to keep it that way.
---
Great activities to try and nearby attractions:
As long as you are visiting this lovely laid-back beach, you should also visit some of the other gorgeous nearby beaches such as Neptune Beach.
Enjoy some historical sight-seeing and nature excursions at Fort Clinch State Park.

The Amelia Island Historic District offers some quaint beach shopping and beautiful historic buildings.

Visit Amelia Island State Park for a great state park where you can ride a horse on beach. Be sure to save time to explore the history of Amelia Island at the Amelia Island Museum of History.
---
---
Kids of most ages: The kids will love being spooked on the Amelia Island Ghost Tour where you'll take a walking tour guided by a knowledgeable person who will point you towards some paranormal activity in the area.
Eating: Get some quality Italian cuisine and pizza at Moon River Pizza. Let the kids play while you enjoy an outdoor meal at Sliders.
Come on down and visit American Beach Florida. You will fall in love with this small beach with a big history!
Have time for a 19th century fortress? Of course, we all have time for a fortress. Especially if can get next to nature in the process?
Therefore, plan to visit Fort Clinch State Park. This park has camping right on the beach! You will be amazed at all there is to do and see at Fort Clinch State Park.
→ Atlantic Beach
← Venice Beach
---
Back to Northeast from American Beach
Return to Home from American Beach Florida