Longboat Key
Longboat Key is often referred to as the "Rolls-Royce of Islands" AND one of the top Florida Beaches.
Do these honors come from the exquisite and dramatic beauty of the sand and crystal clear water or does it come from the ambiance of luxury and seclusion?
---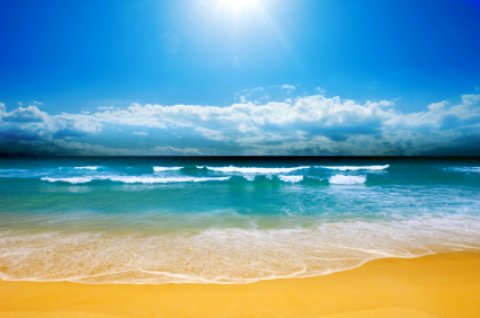 Longboat in the afternoon.
---
Whatever the reason, visitors flock to this peaceful barrier island and keep returning year after year.
This is the beach to visit for award-winning restaurants that accommodate the residents of the many luxury homes and condos and the visitors who rent them for vacations.
Take a dip in the dazzling water or enjoy a bike ride on the 10-mile path to explore all of the beauty this popular beach has to offer.
---
Great activities to try and nearby attractions:
Just a short distance away, a visit to the John and Mable Ringling Museum of Art will give you a day of art exploration and discovery.

Learn about the lives and history of this infamous circus family that loved Sarasota and made it their home. The Museum is housed in the mansion they lived in. This mansion alone will amaze you.

Ringling Museum of the Circus you to further explore the memorabilia of the famous family.

Rent water or jet skis for fun in the sun. Or if you want to rent a boat to snag some fish, see Cannon's Marina.

Golf enthusiasts can choose from several fantastic courses, such as the unique Islandside Golf Club or the challenging Harbourside Golf Course.
---
Kids of Most Ages: The entire family will enjoy the 135,000-gallon tank at the Mote Marine Laboratory and Aquarium. The aquarium is just south of Longboat Key and exhibits favorite marine wildlife.
The kids, as well as adults, will especially love the exciting shark displays. Sharks are fascinating (and scary).
---
---
Eating: Longboat Key is famous for its high class dining. Maison Blanche Restaurant is no exception and offers authentic French cuisine that makes you feel like a real sophisticate.
Café Don Giovanni offers impeccable service and is great for kids as well as adults.
Sleeping: Because of the exclusivity of this gorgeous beach island, hotel choices are limited and also a bit on the expensive side.
If price is not an issue, the exquisite Sand Cay Beach Resort is right on the beach- all you have to do is step outside to get to the beach.
Sandpiper Inn offers a little bit of a less expensive version and is still fantastic.
---
Back to Southwest from Longboat
Back to Home from Longboat Key