Clearwater Beach Florida
Clearwater Beach Florida is a long barrier island and this 2.5-miles beach is made for walking, shelling and of course, "forgetting all your cares and woes" (careful, I am about to break out in song).
Clearwater Beach is connected to the well-developed community of Clearwater so there are a lot of hotels and condos at your disposal as well as lots of great restaurants and serious shopping.
---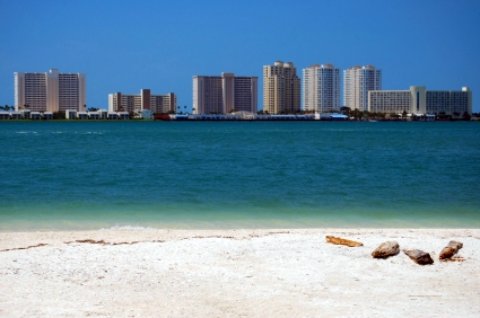 This beautiful beach is so inviting... so come on down.
---
Clearwater is a festival town so ask around to see what is going on, when and where so you can participate. Everyone is welcome in this friendly place so join in the fun, talk to the residents and other visitors and have a great time!
The centerpiece of this "hot spot" among tourists and locals alike is Pier 60, which is popular for fishing and has great food and activities for visitors to enjoy.
---
---
If you and the clan are looking for a beautiful place to relax with a whirlwind world of activities at your disposal, then Clearwater Beach Florida is YOUR best beach.
---
Great activities to try and nearby attractions:
Visit the home of "Winter", the world's most famous dolphin.
Clearwater Marine Aquarium
rehabilitates water animals and then gives them a lovely home.
The aquarium hours are limited, so be sure to call ahead to make sure this small but fun aquarium is open before you schedule your visit.
Caledesi Island State Park (a Top 10 Best Beach winner) is located just north of Clearwater Beach and has many great nature trails and fun for outdoor enthusiasts to enjoy.
Honeymoon Island State Park is twin to Caladesi Island State Park and similar in beauty. Try to visit both gorgeous barrier islands.
The summer training camp to the Philadelphia Phillies, Bright House Field is a popular sight to see and if you're lucky, you might even get to see the team in action as they train!
---
Kids of most ages: Take an exciting water tour adventure aboard Captain Memo's Pirate Cruise for fun games and activities for the kids and adults too as well as an awesome sightseeing and dolphin and other marine wildlife adventure.
Eating: Excellent food, prices and service with a Caribbean style twist on delicious seafood and chicken choices can be found at Rumba.
Frenchy's Rockaway Grill serves up the best fish tacos you've ever tasted! There are a lot of great restaurants to choose from but these two should give you an idea of the fantastic food you're in for.
---
---
Sleeping: There are countless hotels to choose from. Marriott Suites Clearwater Beach Florida on Sand Key (Sand Key Island is accessible from Clearwater by bridge).
Easy beach access, with the beach right across the street and incredible views and an enjoyable pool area.
For a less expensive option, consider the Floridian Inn. This quaint and cozy hotel is close to the beach and attractions.
Also, for more secluded beaches, see Caladesi Island State Park
or Honeymoon Island State Park

Hudson Beach →
← Belleair Beach
---
Back to Central West from Clearwater
Back to Home from Clearwater Beach Florida