Honeymoon Island State Park
Honeymoon Island State Park is a best beach winner
and has all the romantic ambiance you would expect of an island
that started life as a special retreat for newlyweds.
---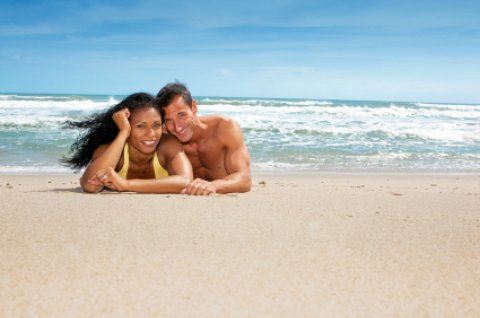 ---
Honeymoon Island and Caladesi Island State Park began life as one long beautiful barrier island until they were split apart by a hurricane over 90 years ago.
---
Honeymoon Island is north of Caladesi Island and is the larger of the two islands.
Honeymoon Island also got the transit system which was nothing to boast about. The system was comprised mainly of boats going there regularly from the mainland.
However, now there is a ferry service to take beach goers on to Caladesi Island from Honeymoon Island and again.
---
---
Most people stop when they get to Honeymoon Island and claim a piece of the beach. They enjoy a beautiful beach but they miss an equally gorgeous and less crowded Caladesi.
Barrier islands, like Honeymoon Island, are vital to Florida. They extend out into the Gulf or Atlantic Ocean and protect the mainland from the harsh effects of storms and provide habitats for shorebirds and other coastal animals.
They are also first in line to take a beating from bad-tempered weather.
---
What to expect:
Beautiful beach for sunning, white sand and azure water

Beachcombing, shelling, swimming, snorkeling, boating, canoe/kayaking and saltwater fishing

Nature trails for birding, hiking and walking

Open 365 days, including holidays, 8 a.m. to sunset, nominal fees

Florida State Parks may require entrance fees per person or per car
---
There is a dog beach here so bring Rover
and let him play in the Gulf. If he (or she) happens to be a lab, and they are like our labs, they will show their gratitude by way too many face licks.
---
---
You will pass through the enchanting town of Dunedin where you will feel right at home. Dine at the mom and pop eateries and visit with the locals.
You will find gifts for yourself and those friends back home awaiting the souvenirs you promised. Come as you are; you are welcome in shorts, swimsuits and cover-ups.
While there are no overnight hotels on this beach, there are some excellent resorts and condos in the area.
Now, here is a link to Caladesi Island State Park with information about it if you want to venture on.
For more information or to visit this park, contact: Honeymoon Island State Park, #1 Causeway Boulevard, Dunedin, FL 34698 (727) 469-5918
---
Go to Florida State Parks from Honeymoon
Back to Home from Honeymoon Island State Park