Belleair Beach
Belleair Beach is a modern beach that has been delightfully preserved to maintain an Olde Florida look.
---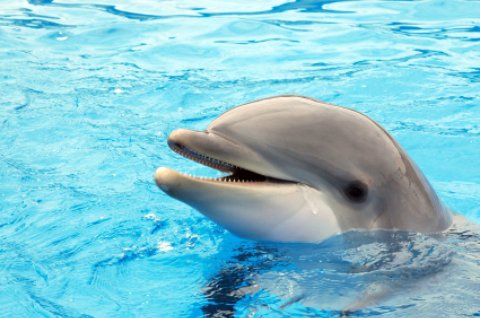 Dolphin performing for guests
(and perhaps a fish or two).
---
The lucky residents of this lovely beach shy away from commercializing and they love that they have managed to hold on to their quiet friendly beach town.
One resident told me they want their 'big-city' visitors to come here
and enjoy a small town atmosphere for a week or so and see if
they still think their big city is so great. I agree;
it was punishment to pack and come home.
There are four beach access points for tourists but not too many parking spots so fair warning; get here early and stake your claim - in the parking lot; there is a lot more sand here than asphalt.
Stay for a sunset! Even the residents still flock to the beach to behold the incredible skyline at dusk.
Bring the boat? Boaters can find a place to launch at the Seventh Street Boat Ramp and enjoy a ride on calm aquamarine water.
---
Great activities to try and nearby attractions:
---
---
Kids of most ages: A visit to the Clearwater Marine Aquarium offers fun for the whole family with its rescued and rehabilitated marine animals.
Eating: Pretty much the only game in town, Café Soleil offers a cozy atmosphere and tasty food.
Sleeping: The Belleair Beach Resort is the only choice right here but it's located on the beach so, why stay anywhere else?
Extend your fun! Check out the 'home away from home' vacation rentals!
---
Clearwater Beach→
← Apollo Beach
---
Back to Central West from Belleair
Back to Home from Belleair Beach