St George Island State Park
St George Island State Park is made for
beach aficionados and history buffs.
---
---
This member of the "TOP 10 Best Parks"
is located in the Florida Panhandle, east of Apalachicola.

Known as the best beach on the Florida panhandle
says a lot because all the beaches in this
area are strong contenders for this title.
---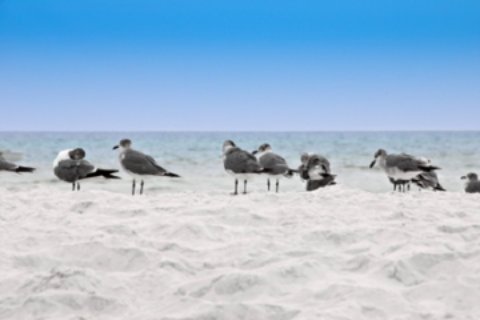 St George Island State Park
Elegant beach with white quartz sand and sea gulls
---
Historical finds! You may just look down and find remains of practice bombs and artillery shells left behind by troops training at Camp Gordon Johnston during World War II.
St George Island State Park is also the place for a very calm and quiet getaway as this gorgeous 3-mile stretch of heaven is usually nearly deserted.
Much of the beach remains untouched and you are able to experience the beauty of nature's landscaping with the natural sand dunes and abundant shelling opportunities.
This beach has its very own celebrity in Dr. Julian Bruce who has become extremely popular with his Best Beach awards. We all look forward to his list every year. He was honored when Florida renamed this park, Dr. Julian Bruce St George Park. We sympathize with Dr. Bruce. The poor guy has to go from beach to beach to beach all year to determine the best of the best. "Dr. Bruce, if you are listening, I am an available assistant. Will carry your cameras and notes..."
There are great opportunities for fishing if you opt to catch your own. For me, I like it cleaned, cooked and put in front of me while I patiently wait with a glass of wine and knife and fork.
Important fact! One of the most interesting pieces of history St George Island State Park is the Cat Face Tree. In earlier times, slashes were made on the trees to show evidence of being used to harvest turpentine.
Nature at work: In an effort to heal the open wounds, the trees produced resin where they were cut, which caused then to produce turpentine. The scars left behind on the trees are said to look like "cat faces" and are interesting to behold. Must see!
---
What's so special about Dr. Julian Bruce /St. George Island State Park?
Beautiful 2023 acre beach for sunning, white sand and aqua water
Beach combing, shelling, swimming and fishing
Concession stand and vending machines, picnic tables and shelters with grills, playground, restroom facilities and showers
Boat ramp
Nature trails for birding, hiking and walking
Open 365 days, including holidays, 8 a.m. to sunset, nominal fees
60 full facility campsites and limited primitive campsites- call ahead for reservations
Pets are permitted in camp areas but not on beach in order to preserve its cleanliness
Florida State Parks may require entrance fees per person or per car
---
What to do: Visit the St. George Lighthouse - climb to the top and experience a remarkable, breathtaking view of St. George Park and beach.
Have the kids race to the top of the 92 pine steps and maybe they'll go to sleep early for you!
Trek on over to Apalachicola for the freshest oysters and shrimp in Florida. Apalach is a treasure trove of interesting sights. Check out our rumblings about Apalachicola and take pictures of yourselves there and send to us.
If fishing is your passion, check out Pelican Reef, where flounder are popular, or Bob Sikes Cut, which separates St. George Island from a smaller barrier island called Little St. George Island.
If you are in the mood to drive a bit (well, quite a bit but well worth it), head west along the most fabulous coast ever. Along the route is Panama City Florida well known as the Spring Break Capital of America (so avoid that time unless you are 19 years old and still think unbearable crowds of 19 year olds is a good idea).
Where to eat: Affordable family friendly (and kid friendly) options include BJ's Pizza and Subs, where you can get great food and some of the only non seafood items on the island.
---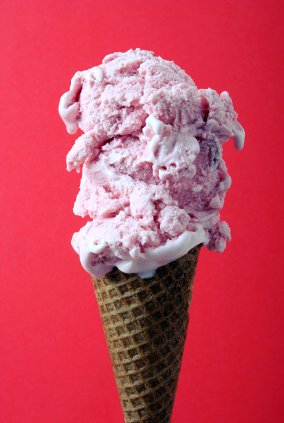 Or take the kids to
Aunt Ebby's Island Deli and Ice Cream
for a special treat.
---
If you're looking for a more adult atmosphere, check out Oyster Bay Bar and Grill.
Where to Stay: There aren't a lot of hotel options at St. George as one of the unique features of the beach is its preservation.
Camping in one of the campsites is ideal, but if you prefer a hotel, St. George Inn and Buccaneer Inn can be found nearby.
St. George Island State Park is located at 1900 E. Gulf Beach Drive St. George Island, Florida 32328 Please call ahead for camping reservations at (850)927-2111
Back to State Parks from St George Island State Park
Back to Home from St George Island State Park