Tarpon Springs Florida
Tarpon Springs Florida is "the Sponge Capital of the World" and has been since the 19th century when Greek immigrants first began harvesting sponges here.
Sponging still goes on in this "city on the water" but what is really going strong is the Greek heritage. If you speak Greek, come on down and converse with the locals in Tarpon Springs.
---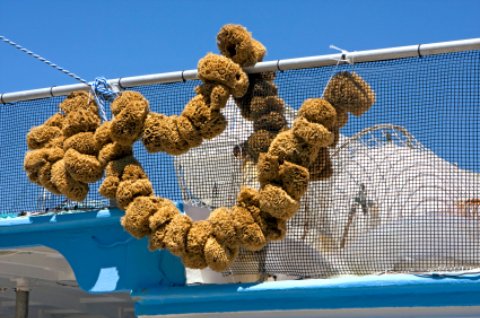 ---
Sea sponges,
like the ones above, look like plants but are really simple, multi-cellular animals that grow in oceans everywhere and have to be harvested.
Sea sponges come in all shapes and sizes and can be pricey, especially when packaged for the luxury bath and beauty market. Women use them in make-up application and spa-baths. Look for them in upscale spas, bath boutiques and specialty soap stores.
If you go down to the pier to see the sea sponge boats you will probably see some shrimp boats with, perhaps, your dinner, if you looking for some really fresh shrimp. Shrimping is a big industry and the Greeks know how to cook them!
So, if you like good cooking, come on in, your table is waiting.
You can smell fried squid, shrimp and garlic and moussaka wafting from nearby restaurants. If you're in the mood for some authentic Greek food, you'll find it here.
The area gives off sort of a New Orleans kind of feel, except it's Greek that's heavy in the air.
Spend the day fishing with the locals, take a windsurfing lesson or just hang out with the other beach bums and work on getting golden.
---
Great activities to try and nearby attractions:
Soak up some history at the Sponge Factory, where you can learn all about sponge diving and harvesting and check out the notable Spongerama Museum housed here.

Head to the downtown historic district to experience some of the original Greek architecture that is now home to shopping and dining facilities.
Spend some time walking nature trails and looking for some birds and other wildlife at Brooker Creek Preserve.
This park allows for great exploration if you're into nature and want to see some of the wildlife that shares the land with the Greeks and other locals.
---
---
Kids of most ages: On a rainy day or when you need a break from the sunshine, head over to Konger Tarpon Springs Aquarium where you can see some great underwater creatures and observe scuba divers interacting with and feeding them. There is lots of information here and many displays that younger children will especially enjoy.
Eating: Your trip to Tarpon Springs Florida won't be complete unless you get a taste of real Greek dining at Mykonos or Costas Restaurant.
If you'd rather feast on some of the scrumptious shrimp or other seafood, check out Rusty Bellies Waterfront Grill.
Sleeping: It's best to stick with the chain hotels in the area as some of the local joints are kind of rustic, to say the least.
Try Hampton Inn & Suites Tarpon Springs or Holiday Inn Tarpon Springs, both of which offer reasonable rates.
---
Boca Grande →
← Tampa Bay Florida
---
Back to Central West from Tarpon Springs
Back to Home from Tarpon Springs Florida