Smathers Beach Florida
Smathers Beach Florida, on Key West, is one of the finest beaches in the Keys. Of course, that is assuming you like a sun-kissed beach, crystal clear blue water and gorgeous white sand.
Smathers Beach is one of the closest beaches to Key West International Airport so you are almost to your destination when you land.
---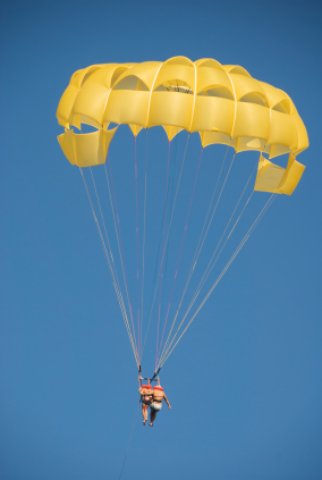 Parasail over Smathers Beach Florida
---
At half a mile long, this is the longest beach in the Florida Keys. Need we say more? Well, okay, since you asked.
Smathers has become an unofficial topless or nude beach mainly because the island is so large, it's easy to find your own little private area and no one will be the wiser.
We are not saying it is legal but it is a huge beach and fairly unpopulated so if you are inclined, and as long as you are careful, you will probably go unnoticed.
As a rule, and this goes for many beaches in Florida, if you are discreet and you don't give anyone reason to complain, you are probably okay if you want to bare some or all the body.
So, if you are into the whitest of white sand, the brightest of sunshine and sparkling blue water, come on down.
Want to see it from the air? Just soar over and look down at paradise! We are told parasailing is very reasonable to downright cheap here. Like anything, though, it probably fluctuates with the time of year and the crowds.
Smathers Beach Florida is a great beach to enjoy if you're looking for calm water (no surfing here!) and a peaceful, relaxing setting that allows you to enjoy the beauty of the Keys in complete relaxation.
---
---
Great activities to try and nearby attractions:
Try Parasailing for the fun of soaring like a bird or to just to enjoy incredible ocean views from above - or both.

Enjoy a tour of the Florida Keys like no other aboard a charter from Dream Chaser Charters.

Visit the Key West Aquarium to check out the 100 plus species of fish, turtles and other ocean wildlife that call Smathers and the other Florida Key Beaches home!

Of course, it's a given that you will venture into Key West for delicious Key Lime Pie which originated here. If you venture around Key West (which you MUST do) you will see trees loaded down with these miniature limes.

Absolutely, make a trip to Bahia Honda State Park, a fabulous Florida State Park. It has often been touted as one of Florida's best beaches in terms of sand and water quality.
---
Kids of most ages: Enjoy a super-soaking water thrill ride aboard White Knuckle Thrill Boat Rides, which is just as fun as its name implies.
Eating: Enjoy an inexpensive and delicious surprise at Bad Boy Burrito or treat yourself at Prime Steakhouse.
→ Naples Beach Florida
← Marathon Beach
---
Return to Home from Smathers Beach Florida