Savannas Preserve State Park
Savannas Preserve State Park: If you have dreamed of waking up in paradise with a beautiful natural and undisturbed landscape, pinch yourself; you are here.
---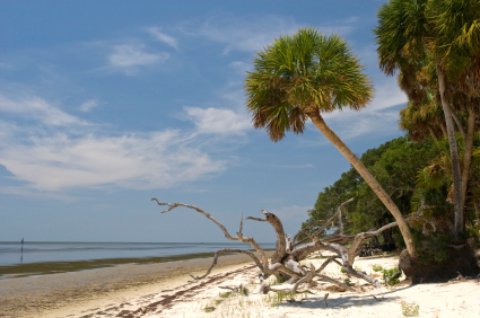 Driftwood on the Savannas State Park Shore
---
Savannas State Park is what remains of what used to be 10 miles of savannas, which are basically grasslands occupied by clusters of trees.
Many species, including many endangered varieties such as the Florida Scrub Jay and gopher tortoise call this beautifully preserved park home.
Enjoy a great educational experience on the natural ecosystems within the park or hike or horseback ride along one of the nature trails to observe interesting wildlife and plant life.
Canoe trips are sometimes available when the water level is high enough, allowing visitors to explore Florida's largest freshwater marsh.
If you and the family enjoy nature and you're looking for an educational getaway, visit Savannas Preserve State Park and get a unique and lovely outdoor experience.
Scoot on over to nearby Jensen Beach and you just might see some brand new baby loggerhead turtles. Don't touch, though. They are protected and the park rangers will not be happy with you.
---
Visit Savannas Park and Enjoy
Beautiful grassy fields and forests
8 miles of nature trails to enjoy hiking, bicycling and horseback riding
Canoeing, kayaking and tours sometimes available (call ahead for availability and reservations)
Freshwater fishing
Visitor/ educational center
Restroom facilities and picnic tables with shelters
Open 365 days, including holidays, 8 a.m. to sunset, nominal fees
Florida State Parks may require entrance fees per person or per car
---
What to Do: Close by, Jensen Beach is relatively small so the park provides the main attraction of the area.
Where to Eat: There are a lot of small, quaint restaurants in the area that people from surrounding cities often travel to. Caps Island Grille has great meals at affordable prices and offers a nice family feel.
For an interesting and more formal dining experience, check out Eleven Maple Street.
Where to Stay: Enjoy the beach while you're in the area enjoying the park at Courtyard by Marriott Hutchinson Island Oceanside/ Jensen Beach.
Savannas State Park is located at 9551 Gumbo Limbo Lane Jensen Beach, Florida 34957 Phone- (772)398-2779
---
Back to Florida State Parks from Savannas Park
Back to Home from Savannas Preserve State Park