Redington Beach Florida
Redington Beach Florida can be missed in the blink of an eye so don't blink. You shouldn't miss this 1-mile long city located along the Intracoastal Waterway.
This neighborhood is mostly residential so it offers a nice quiet beach retreat. Sometimes the best way to de-stress is to de-people.
---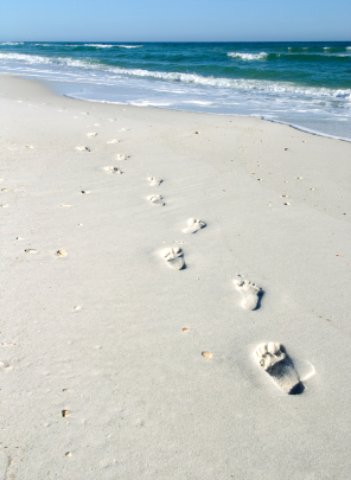 Wouldn't you love to leave your footprints here?
---
If you venture too far north,
to North Redington Beach, you'll find that you won't have as much of an opportunity to gain access to the beach, but there is still public beach access. Go north if you want even more privacy.
Redington Beach Florida is a popular turtle-nesting beach so look out for loggerhead nests. If you're lucky you might get to see one hatch. Remember, they are protected and it is illegal to touch or harm them.
The only downfall of this secluded residential area? There's not a lot of parking, so plan ahead or stay in a hotel right on the beach if your plan is to spend most of your time enjoying the soft sand and warm blue water.
There are no restrooms or showers at any of the public beach areas either, so keep that in mind. Just more of a reason to extend your stay and rent a condo or hotel, if you ask us!
If you want a romantic or family getaway that allows you to stay right on a beautiful quiet beach, visit Redington Beach Florida.
---
Great activities to try and nearby attractions:
Enjoy one of the great attractions in the nearby city of Clearwater, such as the Clearwater Marine Aquarium where water animals are rehabilitated.
Take a 22 mile interactive tour aboard a speedboat to see all of the highlights of the Gulf coast and Intracoastal Waterway at Thriller Power Boat.
Spend a leisurely afternoon enjoying a short game at the inexpensive Tides Golf Club. You can experience great beach views from here while you play a friendly round of golf.
---
Kids of most ages: Let the kids play in the playground at Redington Beach while you work on your tan.
Eating: A popular spot, the Ballyhoo Grill is a great place to try.
If you are in the mood for something unique, check out the Talay Thai Restaurant.
Sleeping: A small, family friendly hotel overlooking the Gulf Coast, relax at the Hotel Isis or rent a small condo right on the beach from The Shores.
You are close by so be sure to check out all there is to offer at Clearwater Beach Florida.
St Pete Beach →
← Pass-a-Grille
---
Back to Central West from Redington
Back to Home from Redington Beach Florida