Madeira Beach Florida
Madeira Beach Florida is a great family beach; not Madeira the Spanish wine you thought I was talking about but if we put the two together… hmmm.
---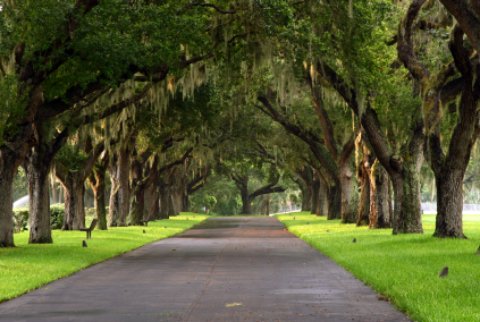 Oak Trees covered with Spanish Moss
---
Madeira is a quiet beach, never crowded and the first place you think of when you want to get away from it all. However, a little quiet can go a long way and then you need some action.
So, if the beautiful beach is not crowded, where is everyone? Let's look over at John's Pass Village and Boardwalk.
This large boardwalk is like a massive market built on a wooden structure that extends out over the Gulf and has stores galore, souvenir shops, antiques, art, clothing, jewelry, restaurants, and you name it, it is here somewhere.
Remember the old saying, "One person's trash is another's treasure" and never truer than here. Wear your grubbies and in the midst of all this ruble, you just might find the perfect little objet d'art for your home.
And, you may find nothing but you have spent a couple hours and worked up an appetite for excellent seafood so all was not lost.
---
Great activities to try and nearby attractions:
Take advantage of fantastic fishing opportunities at St. John's Pass, which is also an entertainment district where the boardwalk is full of shops and eateries.
Step aboard The Pirate Ship at John's Pass if you dare for a fun Pirate-themed tour of the Gulf's beaches along the Intracoastal Waterway.
Or, perhaps a dolphin-watching excursion would interest you? If so, check out Dolphin Quest.
Take a deep-sea fishing adventure, snorkeling trip or dolphin-watching cruise at Hubbard's Marina.
---
---
Kids of most ages: Play a round of mini-golf at Smuggler's Cove Adventure Golf but watch out for the alligators! They roam around the area on occasion- but don't worry; no one has been attacked yet.
Eating: See what all of the fuss is about with the seafood at Mad Beach at Bubba Gumps.
If seafood isn't your thing or you're in the mood for something a little different, try the Angry Pepper.
Sleeping: One of Madeira Beach's finest, stay at the Beachfront Hotel at Barefoot Beach Resort at Madeira Beach.
If you want a pet-friendly hotel, try Changing Tides Cottages where man's best friend is always welcome.
Don't overlook Madeira Beach Florida for a few days of rest and recreation. It will serve you well!
---
New Port Richey Beach →
← Indian Rocks Beach
---
Back to Central West from Madeira Beach
Back to Home from Madeira Beach Florida