John Pennekamp Coral Reef State Park
John Pennekamp Coral Reef State Park, the first underwater park in the United States, provides an incredible marine reserve for 40 species of coral and over 650 species of tropical fish.
The water is shallow here and the only way to experience the true beauty of this famous undersea safe haven is to jump right in.
---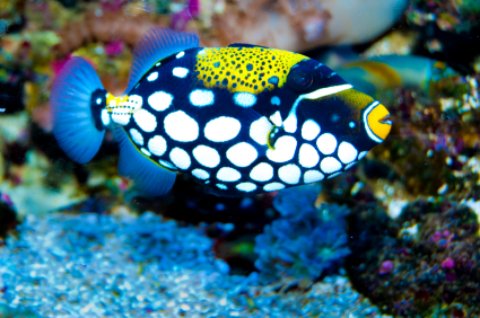 Tropical Fish can be seen by diving or snorkeling.
---
Visitors can experience this beauty
"under the sea" by snorkeling or scuba diving but the park also offers a 2 hour tour on a glass-bottom boat for those that prefer to stay dry.
Snorkeling tours are offered for an up close underwater experience for those that want to dive right in and explore.
Another unique attraction of the park is the 30,000-gallon saltwater aquarium recreating a coral reef ecosystem that offers a scenic and educational experience.
One of the only remaining living coral reef formations in the United States, John Pennekamp Coral Reef State Park is full of beauty, relaxation and adventurous recreational activities for the whole family.
---
---
What's special about John Pennekamp Coral Reef State Park
Amazing aquatic wildlife sanctuary located in the Florida Keys
Two beaches- Cannon Beach contains early remnants of shipwrecks, Far Beach great for relaxation, a lagoon for small children to swim
Swimming, snorkeling, scuba diving, boating (motorboats, sailboats), canoe/kayaking, and saltwater fishing
Concession stand with lots of gifts and snack bar, picnic tables, playground, restroom facilities and showers. Pavilions available for rent.
Marina with boats for rent if you don't have your own
Nature trails for birding, hiking and walking (Mangrove Trail and Wild Tamarind Trail)
Full facility camping (calling ahead for availability is recommended), boat camping
Open 365 days, including holidays, 8 a.m. to sunset, nominal fees
Florida State Parks may require entrance fees per person or per car
---
What to do: There are enough activities available in the park to keep the family entertained for days, but if you want to venture outside of the park, Key Largo offers a ton of activities for the whole family.
Dolphins Plus offers an incredible dolphin swim where adults and children 7 years and older can enjoy these beautiful creatures. There are also numerous dive shops and tours to choose from.
Where to eat: Check out the Bayside Grill for fabulous steak and seafood choices. Try Harriette's Restaurant for a great breakfast.
Where to stay: If camping out at the park isn't your thing, there are a lot of hotels in Key Largo to fit all types of budgets.
---
---
A mid-priced choice that offers seclusion and relaxation at a gorgeous beach location is the Island Bay Resort or for a bit more, you can stay at Key Largo Grande Resort and Beach Club where there is a beautiful beach, nature trails and is also private and relaxing.
John Pennekamp Coral Reef State Park is located at U.S. 1 Mile Marker 102.5 Key Largo, FL 33037 Phone- (305)451-1202
Back to State Parks from John Pennekamp
Back to Home from John Pennekamp Coral Reef State Park