Bonita Beach Florida
Bonita Beach Florida is called "pretty beach" and it truly owns that name. The sand is soft and white as cotton, the water is blue as the sky and the sun just doesn't quit.
---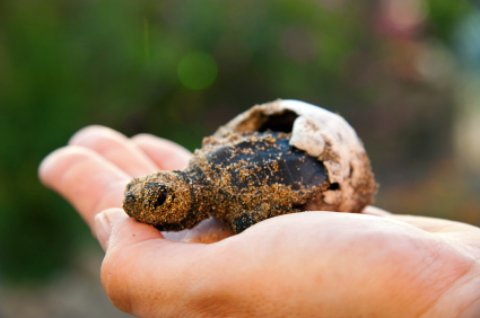 Sea turtles are always hatching here, so you're sure to spot some of these cute little critters but remember its against the law to bother them or impede their lumbering trek to and from the ocean where they lay eggs on the shore and come back often to check on them.
There are seashells galore to keep the kids (and moms) busy shell hunting so bring some bags and remember to throw the live ones back.
Bonita Beach Florida provides a nice mixture of calming beach relaxation and laid-back activities with good shopping and good restaurants nearby.
---
---
Great activities to try and nearby attractions:
At nearby Lovers Key State Park you can fall in love with each other all over again and you will love the beautiful beaches and wetlands too.

The city of Bonita Springs, where the beach is located, has a great dog park where your furry friend can enjoy the sand and water too.

Just to the north lies Fort Myers Beach which is more developed and upscale with more gorgeous beaches. Ft Myers has many culture-enriching things to do and see.

Strip to the birthday suit, if you dare, at the secluded nude beach portion of Bonita Beach. Not legal but usually okay but no promises.
---
Kids of most ages: A visit to the Everglades Wonder Gardens will entertain kids and adults of all ages with its wide collection of animals, both exotic and native. There's also a huge botanical garden and a history museum where you can learn all about the history of this gorgeous region of the world.
Eating: The name isn't the only thing that is unique and creative at A Table Apart where you can enjoy a wide variety of cuisines including Asian, Hawaiian and Pacific.
Bring out your inner Italian to dine at the Tuscan Bistro.
Sleeping: A great family hotel that is clean and comfortable, The Inn at the Springs is an affordable option.
Or you can pamper yourself at the Hyatt Regency Coconut Point Resort and Spa. Highly recommended.
---
---
Bradenton Beach →
← Boca Grande
---
Back to Southwest from Bonita Beach
Back to Home from Bonita Beach Florida