Sanibel Island Florida
---
Sanibel Island Florida is the #1 best shelling beach
in the world and it is gorgeous to boot.
While this beach is getting high marks for sand and water, nature
is piling up tons of colorful, unusual and rare sea shells.
---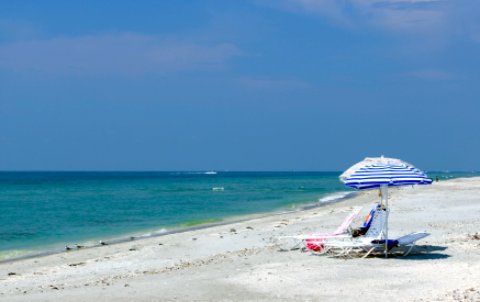 Sanibel Island, #1 shelling beach!
---
Sanibel Island is the recipient of more than its fair share of shells because of its physical location in the Gulf of Mexico.
While most barrier islands run parallel to the mainland, Sanibel and sister Captiva are more perpendicular so there is more land mass to catch the shells.
Since acquiring the moniker of Seashell Capital of the World, Sanibel and sea shells have almost become synonymous.
---
Can you do the Sanibel Stoop? Just bend over from the waist, pay no attention to where you are walking and keep your eyes peeled for beautiful seashells to pick up to add to your growing collection.
Be sure to take a big goody bag with you. I like a net bag that lets the water drip through so you aren't hauling heavy water around. Throw back the live shells. Give them a chance to live.
Sanibel Island Florida is more than shells; it's also nature, a wildlife refuge with an abundance of animal and plant life.
Sanibel Island Florida is the larger barrier island of the Sanibel-Captiva two-some. This duet is often spoken of as one island but actually are two separated islands connected by the Turner Bridge. You will find Captiva Island equally beautiful with similar shelling opportunities.
---
---
---
The Sanibel lighthouse stands on a beautiful landscape where sky meets ocean (or does it? Hard to tell when the sky and the water are the same color). This is one of the most photographed landmarks on the Gulf Coast.
Parting is sweet sorrow (as they say) but if you can depart this beautiful island for a short while, drive across the bridge to Fort Myers where there is a myriad of activity. We have suggested attractions, restaurants and opportunities in this family oriented city so head on over to Fort Myers and expand your vacation.
---
Great activities to try and nearby attractions:
Visit the Sanibel- Captiva Nature Center for live plant and animal exhibits and lots of information, where you can also walk through four miles of trails in the native plant nursery. The Sanibel overlook and observation tower offers some incredible views.

Take a hike or ride a bike through the J.N. "Ding" Darling Wildlife Refuge. It offers some great opportunities to observe wildlife and birds.

If you prefer to drive, you can also take a leisurely drive along a 5 mile long self guided nature tour.

Prepare for a wet and wild ride aboard the Sanibel Thriller where you can enjoy seeing dolphins up close and personal. Prepare to get wet- the dolphins get really close and jump and play practically in your lap. Fun for the whole family and an experience you will talk about for years.

Visit Periwinkle Place and Tahitian Gardens to enjoy a day of shopping in upscale shops and boutiques.
---
Kids of most ages: Tarpoon Bay Explorers offers a variety of activities for kids and families such as kayaking and canoeing through the Sanibel wildlife refuge or an educational narrated tram ride through nature.
Eating: Stick with the "natural" atmosphere of the beach and island, Greenhouse Grill uses only the freshest ingredients to prepare delicious Italian and Mediterranean dishes.
Visit the Mad Hatter Restaurant for some unforgettable seafood.
Sleeping: The Blue Dolphin is a small, cozy hotel that is only minutes away from the beach and offers a comfortable, old-fashioned feel at a reasonable price compared to many other hotels on the island.
Tortuga Beach Club Resort is right on the beach, luxurious and beautiful and allows you to experience the famous Sanibel Island sunsets firsthand.
Sarasota Florida →

← Naples Beach
---
Back to Southwest from Sanibel Island

Back to Home from Sanibel Island Florida