Gamble Rogers State Park

Where is Gamble Rogers State Park? This beautiful park is in the northeast Florida region at Flagler Beach. The park was named for Florida son and folk singer, Gamble Rogers.
Always popular and favored as one of the top beaches in the area, swimming and other recreation awaits you.
Bring the whole famly for ample opportunities for water and nature activities.
---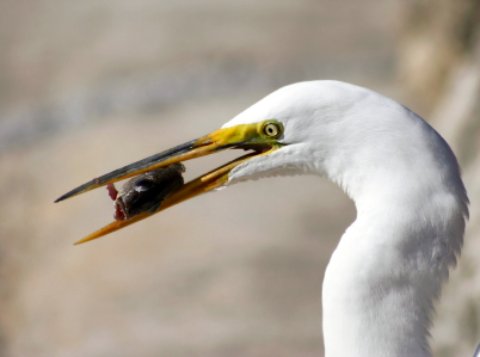 This white egret just yanked the snapper out of the water for lunch.
---
The most prominent and popular feature
of Gamble Rogers State Park is the half-mile beach that allows visitors to relax on a smooth, sandy beach with blue waters and watch their worries get carried away by the tide.
If you tire of swimming, fishing, surfing or snorkeling and would prefer to explore dry land, wander onto the Great Florida Birding trail, at the east end of the park.
After enjoying that incredible activity, venture over to the Joe Kenner Nature Trail and enjoy more wildlife viewing.
Don't miss the five interpretive kiosk panels located throughout the park detailing the history and interesting features of the park.
Nearby, maybe for a little golf, check out Palm Coast Florida.
---
---
You will love the hardwood hammock forests that serve as a backdrop to the white sandy beaches and blue water.
---
Visit the park and Enjoy
Shelling, swimming, snorkeling, surfing, boating, canoe/kayaking and saltwater fishing
Picnic tables and shelters, restroom facilities and showers
Boat ramp for boats, canoes, kayaks into the intercoastal waterway
Nature trails for birding, hiking and walking
Full facility camping- book through ReservAmerica by calling (800)326-3521
Nature tours and interpretive nature exhibits
Pets are permitted in most areas
Open 365 days, including holidays, 8 a.m. to sunset, nominal fees
Florida State Parks may require entrance fees per person or per car
---
What to Do: Take a break (as if you'll need it) from the park's nature trails and beach to tour the Gallery of Local Art to see the amazing creations of local artists. While you're there, take an art class or two if you like.
Where to Eat: Don't miss phenomenal and fresh seafood at Flagler Fish Company, which offers delicious choices at reasonable prices, served by an extremely friendly and courteous staff.
---
---
Where to Stay: Of course the camping facility at the park offers a great place to stay if you've got a tent or RV but if you prefer a hotel stay, try The White Orchid Inn and Spa which is conveniently located right on nearby Flagler Beach and offers comfortable rooms and delicious food as well.
Gamble Rogers Memorial State Recreation Area is located at 3100 S. State Road A1A Flagler Beach, Florida 32136 Phone- (386)517-2086
---
Back to Florida State Parks from Gamble Rogers
Back to Home from Gamble Rogers State Park