Curry Hammock State Park
Curry Hammock State Park is a great place to visit but the name describes the foliage and has nothing to do with you spending the afternoon swilling margaritas in a horizontal swing that is ever so gently propelled by warm ocean breezes (although we agree it is a better use of the word).
Tropical hammocks are hardwood trees that take thousands of years to form. They are only a few inches above the marshland they inhabit and are home to diverse wildlife and plant life.
---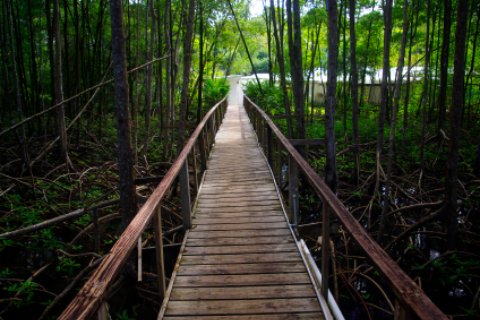 Tropical Forest
---
Curry Hammock State Park
is full of these ancient trees and the park invokes the same kind of comfort and relaxation that the other type of hammock (the one that you actually do swing on) would.
Located in the middle Florida Keys, Curry Hammock consists of several small islands that are known for having the most thatch palms in the United States. They thrive in the warm humid environment here.
This unique habitat of mangrove tree swamps and wetlands also provide a home for many rare animal species such as the Key Vaca raccoon, which is a very rare and people-friendly raccoon species.
---
---
Sea life here is an abundance of fish of all sizes; most often you will see spotted rays, nurse sharks, manatees and porpoises.
The skies are full of beautiful birds and while, not beautiful, but famous, is the celebrated and endangered bald eagle flying overhead looking for a cheap, quick meal.
The park offers lots of great activities and is a popular camping location because of its exquisite beauty and abundant natural plant and wildlife.
If you're looking for a great place to take the whole family camping, visit Curry Hammock Park for a peaceful camping experience and enjoy some of the rarest beauty nature has to offer.
---
Visit Curry Hammock State Park and enjoy…
A clean, peaceful campground with gorgeous views and close proximity to the ocean
Call ahead for reservations; necessary because the park is a popular camping spot (ReserveAmerica 800-326-3521)
Swimming, snorkeling, canoe/kayaking and saltwater fishing
Playground, restroom facilities, showers
Nature trails for birding, hiking and walking
Bicycling is popular here on the Overseas Heritage Trail, which passes through the park and provides quick access to the city of Marathon
---
---
Things to Do: The nearby city of Marathon offers several nature exhibits and water sports, like most cities in the Keys. A unique place to visit is The Turtle Hospital which is great for older children or adults where you can learn about this amazing animal hospital that rescues injured sea turtles and nurses them back to health.
Where to Eat: Enjoy a scrumptious seafood meal at Butterfly Café or check out Porky's Bayside Restaurant, which offers many great choices for the entire family in a setting with great ambiance.
Where to Stay: Camping at Curry Hammock is ideal, however if you prefer to sleep indoors (and not in a tent or RV) then there are several lovely hotels in the area. The Hammocks at Marathon provides a relaxing setting with incredible ocean views.
Curry Hammock State Park is located at 56200 Overseas Highway Marathon, Florida 33050 Phone- (305)289-2690
---
Return to State Parks from Curry Hammock State Park
Return to Home from Curry Hammock Park