Crescent Beach Florida
Crescent Beach Florida is located on award-winning Siesta Key (Top 10 Beaches) and was named Crescent Beach because the shoreline has a crescent shape.
Note: Florida has two "Crescent Beaches". This is on the Gulf/Southwest.
There are some great coral reefs right offshore, so Crescent Beach is a popular snorkeling and diving spot. You can see incredible sea life such as the giant moral below, peeking around a rock.
---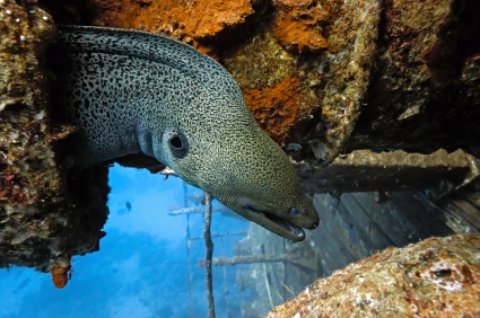 A giant moray, posing for a picture.
Be sure to bring an underwater camera with you.
---
The beach beckons to one and all. With its baby powder sands (in terms of color and consistency!) it's not hard to see why tourists flock here to stay in one of the resort hotels located right on the gorgeous beach.
It's great for family fun as well. The sand is the perfect consistency to play in or just stroll down the 2.5-mile stretch of beach to enjoy the scenery.
---
---
Great activities to try and nearby attractions:
The simply named Point of Rocks is just what it sounds like- a towering group of rocks that you can stand on to enjoy views of dolphins and other ocean wildlife as well as bird watching, even fishing.

There are also great opportunities for shelling here. The entire Southwest area gets more than its share of rare and colorful shells.

Travel a little down the road (or beach) into Siesta Key and rent some jet skis or parasail high above the water at Siesta Key Water sports.

John and Mable Ringling Museum of Art is close by and worth a visit. Come browse art and learn a little bit about this unique traveling circus family in Sarasota, Florida.

The Museum is housed in the home where John and Mable Ringling lived and it is not to be missed. Ringling created a wonderful fantasy circus world for children (and parents alike) and they came home to a fantasy life.

If you've never experienced opera singing before, at Opera you can see classic and modern opera performances that are considered world-class.

This beach is located on award winning, Siesta Key Beach Florida, touted often as prize winner for beach perfection and romance.
---
---
Kids of most ages: The nearby city of Sarasota offers many great family fun attractions such as the Sarasota Jungle Gardens, you can see animal shows featuring reptiles and parrots.
Stroll through the gardens to observe incredible wildlife and plant life. The kids will enjoy this little zoo experience and you will too.
Eating: The South Beach Grill is right on Crescent beach, but if you venture into Siesta Key you'll find more choices, including The Hub Baja Grill where you can enjoy live music while you dine.
Sleeping: Mi Casa (which means 'my house is your house' in Spanish) is a far cry from home because it's so peaceful and gives you a unique beach experience.
You can watch the sunset; even see the waves lap up right on the deck of this beautiful beachside hotel.
Make your plans now to come visit beautiful Crescent Beach Florida!
Englewood Florida →
← Captiva Island
---
Back to Southwest from Crescent Beach
Back to Home from Crescent Beach Florida