Camp Helen State Park
Camp Helen State Park, in a unique geographical position between the Gulf and Lake Powell, offers visitors a choice of salt water or fresh water for fishing and / or water sports and activities.
Lake Powell is an anomaly in that it is a coastal dune lake and a very large one to boot.While sand dunes are popular along the Gulf of Mexico, dune lakes are unusual.
---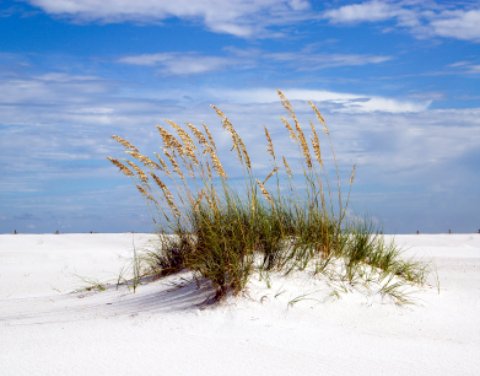 ---
In both cases, the wind and waves work together
to pile sand up around vegetation or man-made fences that will eventually become shelters to protect the integrity of the beach from unruly weather conditions.
Camp Helen, as an inlet beach in the 1800's, was used as a resort for vacationing southerners from plantations and mills from bordering states.
Many opportunities are available to explore the natural beauty of this scientific marvel and to relax on a well-preserved pristine beautiful beach.
A historical lodge remains intact and provides a relaxing place to sit and watch the water.
---
---
Reasons to visit Camp Helen State Park
Offers a quant little beach that allows you to explore the coastal dune Lake Powell
Swimming, boating, kayaking/ canoeing, fishing, wildlife viewing and picnicking
Offers the ability to explore the Gulf of Mexico on small Boats or watercraft in shallow water
Hiking/ Nature Trail allowing you to explore all of the surrounding areas as well
Open 365 days, including holidays, 8 a.m. to sunset, nominal fees
Florida State Parks may require entrance fees per person or per car
---
Activities: Fill your days with sunning, fishing and boating on this quant little beach or venture out further into Panama City to experience one of the many attractions.
The Panama City Beach Winery offers unique wine tasting. If you're looking for fun for the kids, visit Shipwreck Island, a water park that has rides for the whole family, or if you'd rather partake in a group tour, try the Adventures at Sea group boat tours. Dining: Although there are no restaurants directly at Camp Helen, you can again find many options in Panama City.
Firefly is a top choice although it is a little pricey, you can find delicious American cuisine, seafood, steaks and more.
If you are on a budget, the Summer Kitchen Restaurant Café offers delicious food of all kinds.
Hotels and Lodging: There are no hotels located right at Camp Helen, but you can find several only a few miles down the beach, such as the Driftwood Lodge, which offers comfort and luxury at affordable prices.
Camp Helen State Park is located at 23937 Panama City Beach Parkway Panama City Beach, Florida 32413 Phone (850)233-5059
---
---
Back to Florida State Parks from Camp Helen

Back to Home from Camp Helen State Park